Beryl Wajsman

Tous les articles

Imprimer
Auteurs > Beryl Wajsman
Beryl Wajsman
Par Beryl Wajsman le 24 janvier 2013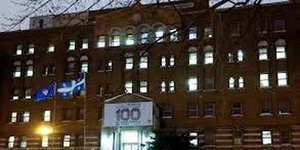 When Provincial Health Minister Dr. Réjean Hébert took the unilateral decision last week to pull Lachine General Hospital out of its arrangement with the MUHC, Hébert violated the cardinal promise of the Hippocratic oath. Do no harm!
Hébert justified his decision by saying it was necessary to protect Lachine's "francophone vocation." It is true that LG is listed as a franchone institution. But its decision to join the MUHC was based not only on its need for more money and doctors, but also on the fact that the physical proximity of the MUHC was simply closer than the francophone CHUM.
Par Beryl Wajsman le 18 décembre 2012
…and yet again.
Words fail. Comfort the bereaved yes. But platitudes to the living, whether from realms private or public are inappropriate. As Father John writes on the page opposite, there is a time to respect silence. Or perhaps a time for respectful silence.
But let us suggest that in one arena this is just the time for certain words. Not the obsequiousness of public officials promising to do something about…it…at some time…soon. But the urgency of addressing…it… in the public arena, with fierce urgency… now.
Par Beryl Wajsman le 13 décembre 2012
Rarely does a piece of legislation come forward that calls for complete rejection. Bill 14 however is just such a piece of proposed law. No Liberal or CAQ MNA should even think of compromise or common cause with the PQ government of Pauline Marois on this regressive and retrograde proposal.
Its rejection is compelled not just by the social, cultural and economic damage it will cause; not just by the civil rights - legislative and acquired - that are once again aborted ; but by the sheer transparent political opportunism and venal prejudice that gave it birth.
Par Beryl Wajsman le 13 décembre 2012
Mere prescence will be used to validate Conference speakers and sponsoring organizations with Muslim Brotherhood and Hamas ties

Liberal leadership candidate and Papineau MP Justin Trudeau's decision to give a keynote address at the "Reviving the Islamic Spirit" conference taking place in Toronto Dec.20-23rd . is a disappointing one and potentially disastrous for liberalism. His mere prescence will be used to validate some of the most retrograde elements on the political landscape that are associated with this Conference. In that he hurts Canada.
Par Beryl Wajsman le 28 novembre 2012
Let us be clear. Freedom is indivisible. And perhaps the most indivisible freedom is expression because it is perhaps the most fragile and always the first to be assaulted by tyrants.
So where is the line? This has been the subject of endless debates and discussions. But on one aspect, all agree. Overt incitement to violent hatred – and the encouragement of that incitement – clearly and candidly expressed, cannot be tolerated. And more. Those who are in positions to influence public opinion, whether in elected office or in the fourth estate, have a responsibility to maintain a higher standard of vigilance and intelligence....
Par Beryl Wajsman le 21 novembre 2012
Too many in the media, in their rush for "balance" on reporting on Israel's response to Hamas' attacks, have forgotten that words matter, images can be contrived and facts must be checked. An anti-Israel bias has brushed all that aside far too often.
Even CNN has resorted to using phrases normally heard on local radio stations without a sophisticated news-gathering organization. Phrases like "Palestinian retaliation for Israeli bombing." They are either kidding themselves or purposely misleading the public.
Par Beryl Wajsman le 30 octobre 2012
And here we go again! Another incident with a subway ticket taker insulting a customer on language. This time it ended in a fight with possible assault charges against the STM employee.
Mina Barak said the incident occurred at the De La Savane métro station (in a predominantly English part of town) when an Opus machine took her money but did not provide transit tickets. When she spoke to the STM employee in the ticket booth in English, harsh words were exchanged. The employee allegedly told her to "go back to your country" and "in Quebec, we only speak French."
Par Beryl Wajsman le 24 octobre 2012
And now the youngest victim of the nationalist rhetoric of the recent election campaign. The tragedy of two-year old Ella Bergeron this past weekend in Hudson. We say this not to exploit a child. But if the "little children shall lead them," then the story of little Ella leads us to a hard and bitter truth.
Par Beryl Wajsman le 19 octobre 2012
One thing is clear from the narrow election result in Quebec - it gave the PQ no mandate for any of its radical agenda. It was to be hoped that we could take Pauline Marois at her word that she not only respected, but understood the will of the people. However, from the inflammatory rhetoric, the sparking of new language friction and the irresponsible fiscal policies it was perhaps too much to hope for.The only sign of hope are the endless flipflops and reining in of her Ministers that she has done.
Par Beryl Wajsman le 19 octobre 2012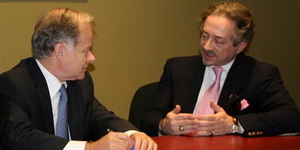 When we take on advocacy cases and causes they usually center on an individual. An individual who has suffered a prejudice that is demonstrative of a broader systemic problem whether in a government department or within a major corporation. Individual cases that have within them issues illustrative of universal applicability. But sometimes it can't be done that way. Fear and impotence stand in the way.
Fear of retribution, and impotence in the face of a maze of ever-changing rules and regulations that baffle even experts. That is the way it is for most citizens who feel victimized by Revenue Quebec and have no idea what to do about it. Many call us.
Par Beryl Wajsman le 19 octobre 2012

In business and the law a rainmaker is someone who brings in important clients. Keeps the money flow coming, and in a big way. But there are two aspects to rainmaking. And it is not everyone who can pull it off with grace and effectiveness. RBC's Tony Loffreda may be first among equals.
Leaders come in two categories. Insiders and outsiders. A few, a very few, manage to be both. We have all met rainmakers whose sole concern is money. Whether it be a businessman, banker, lawyer, they are people who focus all their energy on a constant round of power breakfasts, meetings and presentation. They may be charitable with their money, but frankly have little time left to give of their talent. These are the insiders.
Par Beryl Wajsman le 19 octobre 2012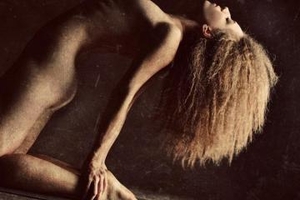 Many people think yoga is a discipline practiced by those privileged with the time and means for proper instruction and a certain degree of self-absorption. Somewhat removed from the harsh realities of life that beset most people. It is of course not that at all. And for for the past several years, adherents to a certain school of Yoga have set out to demonstrate just that.
The Global Seva Challenge, a program of "Off the Mat into the World", adopts a cause every year and hundreds of yoga instructors around the world adopt personal projects to raise money for the goal. This year the Seva Challenge is to help victims of sex trafficking.
Par Beryl Wajsman le 18 septembre 2012
Public policy is not always boring. As much as most voters like the excitement of personality over purpose, there are fleeting moments in the life a nation where we have to pay attention to what has been done, and not just to what has been acted. And when such moments occur, it is our responsibility as citizens to push forward the agenda of human progress. If we fail, at those moments, to engage in the life of our nation we compromise our responsibilities as citizens of freedom and prejudice our rights to complain.
One such moment occurred last week in the life of this nation.
Par Beryl Wajsman le 6 septembre 2012
One thing is clear from the narrow election result - it gave the PQ no mandate for any of its radical agenda. It is to be hoped that we can take Pauline Marois at her word and that she not only respects, but uderstands the will of the people.
Two-thirds of Quebecers - anglophones, allophones and francophones - voted for the federalist, free-market alternatives. Mme. Marois must take that into account and we all must hold her accountable.
Par Beryl Wajsman le 21 août 2012
There is a troubling aspect in the coverage of the unprecedented series of debates in the current provincial election. Too many commentators are paying attention to everything from hand motions to smiles and smirks. They should be paying attention to what is said. And so should all voters.
This is the most important since the 1995 referendum. The reason? After a spring and early summer of social insurrection organized and mobilized by the radical CSN union, the PQ and the QS as much as by students, we enter a fall and winter of public sector union negotiations and the sword of Damocles of more urban paralysis and economic atrophy caused by more demonstrations and marches. It is important for voters to use intellectual rigour to look at actions and results and not just body movements.
Par Beryl Wajsman le 19 août 2012
So now Pauline Marois wants to extend Bill 101 to small businesses as well. Why not, Quebec has so much extra money to spend on more social engineering inspectors. And of course we need more constriction of entrepreneurs' ability to function so we can lose more jobs.
Par Beryl Wajsman le 17 août 2012
So, in the face of a world of horrors, the General Council of the United Church of Canada chose to vote a boycott of products produced in Israeli settlements in the West Bank because the Council claims that the settlements are the primary impediment to a two-state solution. Reasonable people can debate the settlements. But where is the Council's concern over Hamas' thousands of murders of their own people as well as Israelis? Where is the Council's concern over the utter failure of the Palestinian Authority to stop suicide bombers operating from its territory against Israel? Where is the Council's concern over Palestinian children being taught anti-Jewish, yes anti-Jewish not anti-Israeli, hate in PA schools from textbooks paid for in part by Western foreign aid dollars? Whether or not one supports the settlements, to announce that they are the major impediment to peace is a travesty of truth.
Par Beryl Wajsman le 3 août 2012
As much as the ongoing fracas in the francophone media about what kind of leaders French debate to have is somewhat assuming, the refusal of Pauline Marois to accept an English debate, even one on radio where questions could be filtered, is downright insulting. It is time that Quebec's non-francophones start saying "Assez c'est assez! " Montreal island, as of several years ago, is more than 50% non-francophone. The 21% of Quebecers who are non-francophone account for some 40% of all individual revenues collected by Revenue Quebec. Where is, in Sheila Fraser's words, their "value for money?"
Par Beryl Wajsman le 25 juillet 2012
Those words came to mind when we got involved with the sad plight of the Borden Place seniors. There are many commentaries on that verse in Psalms. But among the most interesting is that even a King like David has a right make a plea and call on the compassion not only of God but on his community. And that both should respond with compassion.
This phrase of the Psalmist has been a cornerstone of social justice whether one is religious or not. It has become an article of secular faith that we do not take advantage of the vulnerable. It is an article of moral conscience, that we care for those who paved the way for the benefits of life we enjoy today
Par Beryl Wajsman le 25 juillet 2012
For the 20 tenants of the Borden Place Residence at 4635 Place Borden in NDG , the assisted living facility is a sweet taste of home. Though many are in their eighties and nineties, they are generally autonomous and mobile. The long-time staff gives them assistance whenever needed. It is like one big extended family.
After some 25 years in existence, the tenants had no reason to think that they could not live out their lives in this convivial and nurturing environment. Then money, courts and unfeeling bureaucracy fatefully conspired to turn their quiet lives into nightmares.
Par Beryl Wajsman le 18 juillet 2012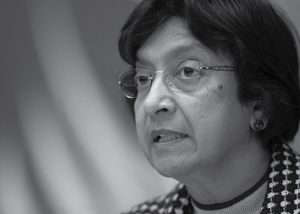 The arrogant, breathtaking audacity of, pardon the expression, the United Nations High Commissioner for Human Rights, taking a swipe at Quebec's Bill 78 as a cause of concern evidences again not only the UN's never-ending readiness to take any shot at functioning democracies to balance off its cowardice in confronting tyrannies, but also the ignorance of its officials. Even at the highest levels.



Par Beryl Wajsman le 2 juillet 2012
It begins as the velvet draping that envelops the downtown core of this pearl of the St. Lawrence as night turns pitch black. As the deep evening turns early morning, the moveable feasts make their pilgrimages to their own holy stations. These hours are ours and there are no rules. The stars sparkle and wink guiding you from one holy grail to another. The playrooms of the inner city, with their terraces and open doors, that beckon all who are willing to live life to the fullest into their open arms.
Par Beryl Wajsman le 26 juin 2012
The problem with modern government is that everyone tries to do things by consensus and to give all parts of the whole a sense of importance. It doesn`t work.
In Quebec, what that produces - specifically in the case of the OQLF - is a bloated sense of self-importance resulting in actions that are not only injurious to the government as a whole, but to the citizens that government and those agencies are meant to serve. The latest broadside of the OQLF demanding that national and multinational companies add a French descriptor to their trade names is beyond reason.
Par Beryl Wajsman le 26 juin 2012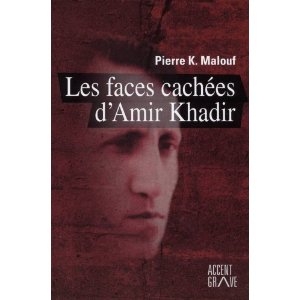 Quebec playwright and novelist Pierre K. Malouf has recently published an explosive book on one of the most controversial and divisive figures in the Quebec political scene. "Les faces cachées d'Amir Khadir" - "The Hidden Faces of Amir Khadir" - examines the Québec Solidaire MNA from Mercier from several perspectives.
The book, brought out by the independent publishing house called Accent Grave, is divided into two parts. The first examines Khadir's involvement in the boycott of a St. Denis St. shoe store called "Le Marcheur" because that store had the "audacity" to sell Israeli shoes among its products. Readers may remember this paper's leadership in supprt of Le Marcheur. Eventually, the street was taken back from Khadir and his cohorts, but they moved further down St.Denis to boycott a store selling exclusively Israeli producs called Naot.
Par Beryl Wajsman le 13 juin 2012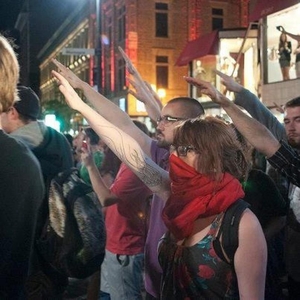 The sight of Montreal's marchers giving Nazi salutes has gone viral around the world. These gangs of thugs have lost all credibility.
Yes, we know, some voices are calling for understanding of "context." That these students were making a point that the police were fascists. Nonsense!
Justin Trudeau recently said in Parliament that the first party to invoke the Nazis or Hitler in a debate automatically loses. Memo to Montreal's mad marchers: You lose!


Par Beryl Wajsman le 23 mai 2012
The current debate about Quebec's Bill 78 and Montreal's notional and nascent demonstration regulations, have opponents of both measures invoking the Charter. Well, Charter rights are not one-sided. It's not just the students who have them. The students' victims — all of us — have them too.
The reality of the current troubles is that a small group of students, probably positioning themselves for a future in politics, gave a large number of their cohorts a reason to party. In the streets, and at the expense of all citizens. In the course of two months, their demonstrations have involved criminal trespass, violent destruction of private property and collective intimidation of the two-thirds of students who want to study and complete their semesters. A massive, moveable rave snaking its way through our streets at a whim. Even union supporters of these paragons of radicalism cannot control them.
Par Beryl Wajsman le 18 mai 2012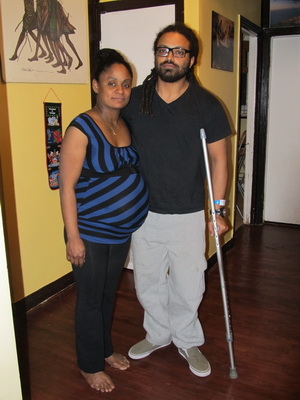 The story of the abuse and humiliation of Abiner Lema and Stacey-Ann Philip by Montreal police underlines once again how critical it is that this city achieve what I call for in the title to this piece. Responsible authority.
An end must be brought to the aggression demonstrated by too many of our security officials, whether police or STM guards. The stories come in on a weekly basis. Yes, I know it is a minority of our security personnel that step out of line. But that minority is in danger of growing into a plurality.
Par Beryl Wajsman le 17 mai 2012

Monday night I went to city hall. Not as a journalist but as a citizen. To ask a question of the Mayor. I ran into a reporter friend of mine who asked me if I wasn't worried about crossing the line. I asked, "What line? From writer to citizen? " I said to him that if journalists give up their responsibilities of citizenship, they do no one any good. If the media truly want to be considered the fourth estate of government, then journalists must become in Malraux's words "citoyens engagés."


Par Beryl Wajsman le 30 mars 2012
The Ontario Court of Appeal decision in the Bedford case striking down that province's anti-brothel laws should be celebrated for reasons far removed from the salacious. The decision, if properly interpreted nationally, would open the door for liberty not license. It is in that sense that it is important.
Par Beryl Wajsman le 23 mars 2012
The controversy over Halal chicken slaughtering by Olymel has ballooned into a series of debates on everything from animal cruelty to unfair pricing to unreasonable accommodation . Yet all these miss the central point. If a society wants to be called free, it cannot take upon itself the right to dictate to a private enterprise - that asks nothing from the state - how it should conduct its business. That is not freedom. That is statism. The arrogance that our public officials and commentators take upon themselves to intervene in private prerogative is not only unjust, it is dangerous. It leads to a society where demonization becomes the goal and disinformation the tool.
Par Beryl Wajsman le 15 mars 2012
A biographer of U.S. Supreme Court Justice and champion of civil liberties Louis D. Brandeis, once described him as a man with a "mind of one piece." He took the phrase from Brandeis' own teaching. The great jurist had tried to instill in his students, colleagues and indeed in public officials, the understanding that for the people to feel that their governors are dispensing justice there must be equity in the law. And for there to be equity there must be consistency. And for there to be consistency there must be reason. A holistic approach not only to the law, but to society as a whole. Reason, consistency, equity, justice.
Par Beryl Wajsman le 13 mars 2012
So Justin Trudeau finally did speak to the "Reviving the Islamic Spirit" conference in Toronto yesterday while refusing to meet with representatives of the Muslim Canadian Congress and B'nai B'rith who expressed concern that this Conference had been taken over by Islamists.
Trudeau then attacks his critics for practising the politics of division while speaking to Islamists who have made division and exclusion the hallmarks of their public face without uttering a word about that.
Par Beryl Wajsman le 12 mars 2012
Short-term memory loss is normally considered a worrisome symptom. But for the companies that sell refined gasoline it is the greatest blessing. To us, the general public that is squeezed everyday by the power play at the pumps, it should be a source of shame. To be a citizen of a democracy requires responsibility. And part of that responsibility is be an educated consumer of public information. We need a populace that can remember the relationship of crude to pump as well as it does the stats of the local hockey heroes. If we don 't wake up soon, we won't be able to afford those tickets to the Bell Centre.
Par Beryl Wajsman le 14 février 2012
Today, we in Canada, are threatened with a new legal assault masquerading as a necessary protection against internet predators. The new Conservative legislation allowing security authorities access to information on personal computer use and cellphone conversations without reasonable cause nor necessity of warrant is nothing more than the imposition of constructs, and constraints, of social engineering driven by the proponents of of the politics of fear.
Par Beryl Wajsman le 5 février 2012
The Shafia verdict should have implications far beyond the deserved condemnations of the very concept of "honour" killings. Beyond even the condemnation of the terrible subjugation of women that is at the heart of that retrograde and oxymoronic phrase and the corpus of thought that gave it birth. And beyond any satisfaction people may have about the verdict. It should lead us straight to the heart of the matter: the absolute rejection of accomodation to any status for any religious law in Canada's legal jurisdictions and the urgent need to reaffirm this nation's dedication to the sovereignty of the individual over any collective