Robert Mapplethorpe (1946-1989) is perhaps one of America's most iconic photographers. This first Mapplethorpe retrospective opened at Montreal Museum of Fine Arts on September 10th and runs until January 22, 2017.
You'll walk away either somewhat disgusted with some of his kinkier nude or semi-nude photographs or view them as an innovative photographic attempt at sculpture. Or you may be in awe at some of his incredible photographs of flowers. As Mapplethorpe said, "I am looking for perfection in form. I do that with portraits. I do it with flowers."
Unlike the equally iconic American photographer Diane Arbus, Mapplethorpe preferred the studio portrait instead of the outdoor "realistic" method favoured by Arbus. Does this make Mapplethorpe a traditionalist despite the progressive and innovative crown granted by the artistic community to Mapplethorpe?
There are 250 works in this "Focus Perfection" exhibit the majority of which are black and white photographs of friends, nudes and flowers with some album covers and jewellery thrown in.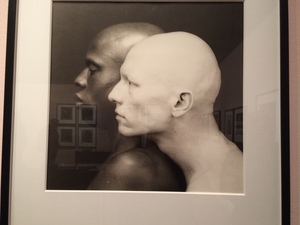 Mapplethorpe started off growing up in middle-class Queens, New York. In 1967 he entered the Pratt Institute in graphic design and even joined the Reserve Officers Training Corps. Then he was snagged by the growing subculture movement becoming good friends with rocker Patti Smith in 1967. He started photography in earnest with a Polaroid in 1970.
With a mentor (and lover) Samuel J. Wagstaff,Jr, former director of the Detroit Institute of Arts, he was set up with high quality equipment and a professional studio. Wagstaff also hooked Mapplethorpe up with the New York City arts community where he started exhibiting his work in 1973. In 1988 there was a major exhibit of his work at the Whitney Museum of Art in New York and in 1989 at the Institute of Contemporary Art in Philadelphia with a show "The Perfect Moment".
Political pressure prevented "The Perfect Moment" from reaching Washington and led to the arrest (for obscenity) of Dennis Barrie who was director of the Contemporary Arts Centre of Cincinnati . Barrie was later acquitted by jury trial.
In 1988, shortly before his death Mapplethorpe established the Mapplethorpe Foundation with the goal of preserving his works, contributing to AID's research and supporting publications and exhibitions featuring photography.
You'll be impressed by what you see of Mapplethorpe but behind the photographs there is a story of art fracking the establishment.
(Montreal Museum of Fine Arts, 1380 Sherbrooke Ouest, 514.285.2000, "Focus:Prevention Robert Mapplethorpe", until January 22, 2017).