It's hard to know what to make of Million Dollar Crocodile, the Chinese film chosen to open the Montreal World Film Festival this year. Is it high camp, art, a publicity stunt or simply pandering to the growing Chinese influence in Canada?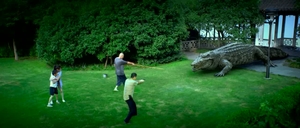 Billed as the first Chinese horror flic, Lisheng Lin's movie about a giant crocodile named Amao previewed at the Cannes Film Festival earlier this year. Seems the Croc swallows the key to 100,000 yuan and wreaks havoc as rival gangs try to capture it. The film, as well as several others on the program have been on the festival circuit, and have already been downloaded on line. Which of course begs the question what are the future implications for a film festival that offers obscure films and has no A-list celebrities if you can download the movies before the festival opens. Internet piracy allows curious cinephiles to discover unusual films from faraway places, but rampant piracy is of concern because it often deprives already struggling artists of the means not only to making their next films, but of paying the bills on their previous ones.
"It is very bizarre," admits festival publicist Henry Welsh. "Technology is not easy to monitor. The landscape is changing. For instance, in the past almost all of the films we screened were 35 mm. This year only 25 of the 432 films representing 80 countries are on 35 mm. The rest are all digital."
A Chinese delegation at the festival will take part in a week long forum on film distribution in China. "The Chinese cinema is one of the strongest in the world right now, and it can be compared to Hollywood in its variety and Its depth," festival president Serge Losique explained.
More than 200 feature films from countries largely unknown to film goers will be screened, places like , Croatia, Spin, Poland, Slovenia and Turkey The eclectic program includes such wide ranging entries such as acclaimed Israeli director Eytan Fox's film Jossi, about a closeted gay man living in Tel Aviv, Private Sun, a film from Palestine about a woman suffering from a bone disease, the German film, Liv and Ingmar, a Norwegian entry in which actress Live Ullman reflects on her decision to leave her husband and live with legendary Scandanavian film maker Ingmar Bergman or the Iranian black comedy Modest Reception, which follows a mysterious couple from Tehran who try to distribute large bags of money to an impoverished mountain border town. The festival's closing film is from France "Un Bonheur n'arrive jamais seul"
Emmy award winning Italian-born Australian actress Greta Scacchi is president of the festival jury this year.
Other films in competition include: Bernard Rose's Two Jacks (U.S.A.), the story of a veteran filmmaker's reluctant return to Hollywood; Wings (China), by Yazhou Yang and Bo Yang, about the relationship between a young surrogate mother and a handicapped man; Yasuo Furuhata's Dearest (Japan), about a woman's posthumous request to her husband; Sabine Hiebler and Gerhard Ertl's Coming of Age (Austria), about an elderly couple that bucks convention to be together; Krsto Papic's Flower Square (Croatia), about a bourgeois family's problems with the mafia; Imanol Uribe's Orange Honey, set amid social conflicts in 1950s Spain; Dito Tsintsadze's Invasion (Germany-Austria) about a widower who is initimidated by relatives; Safy Nebbou's and Ismail Gunes's Where the Fire Burns (Turkey), about a couple that decides to save the family honour by killing their pregnant daughter. Bad Seeds (France) is about two delinquent teens.
The Second World War is the subject of several films, including Calm at Sea, the story of 150 French soldiers who were selected to be shot by the Germans in retaliation for the murder of a Nazi officer. Manhunt focuses on partisans awaiting orders to kill Nazis troops in a Polish forest in 1943; The Russian film, Expiation,is a love story set in the southern USSR in 1946, as a town tries to come to grips with the aftermath of the war; Closed Season deals with about a married German farmer who hides a young Jewish man in his barn, and The Last Sentence tells the story of a Swedish journalist who opposed the Nazis.
Mel Hoppenheim will be honoured with the festival's Grand Prize of the Americas. Hoppenheim founded the Panavision film company in 1965, and is responsible for Montreal's state of the art film studios, Mel's Cite du Cinema.
The Montreal World Film Festival runs from Aug. 23 to Sept. 3. Tickets cost $10 per film; $70 for a pack of 10 tickets. Tickets go on sale Aug. 18. Festival passes also available. Call 514-848-3883 or visit www.ffm-montreal.org