Tous les articles
Vol. 2 No. 10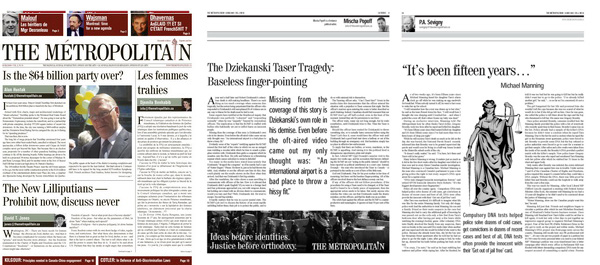 Par Beryl Wajsman le 28 mai 2009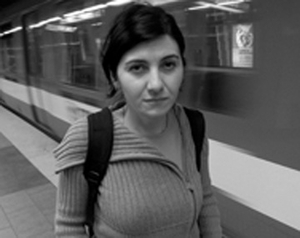 When we crawled out of the mists of the jungles of history to create communities – villages, the origin of cities - it was not out of what today's politically correct zeitgeist would consider a noble purpose. It was done out of selfishness. As it happens, one of mankind's more creative instincts if husbanded properly. We realized we could protect ourselves better against the wolves of the forests if we acted together. Defense was the primary motivation for the organization of the community. The word for that organization in Greek is polis. The origin of our modern day "politics" and "policing". But it was not the sort of policing we have come to suffer through today...
Par Pierre K. Malouf le 28 mai 2009
Amir Khadir et Françoise David prétendent, après bien d'autres, nous faire dépasser le capitalisme. Le dépasser pour aller nous écraser contre un platane ? Qu'appellent-ils « capitalisme » ? Les fautes reprochées au capitalisme, comme la pollution, ne sont-elles pas présentes dans toutes les sociétés industrielles, y compris les sociétés socialistes ? Méfiant, je n'ai pas oublié que les solutions proposées et pratiquées depuis un siècle par les ennemis du capitalisme ont toutes échoué.
Par Jessica Murphy le 28 mai 2009
The battle lines have been drawn over the Turcot Interchange redevelopment project between a government that wants a new highway and Montrealers who seek a cleaner, greener version of their city. Residents turning out for the Bureau d'audiences publiques sur l'environnement hearings on the Turcot Interchange redevelopment plan. For the most part, they agreed something must be done for the decades-old structure crumbling under the weight of hundreds of thousands of vehicles each week. But they don't believe a few trees make a project green...
Par Dan Delmar le 28 mai 2009
Woman detained, fined for poor escalator etiquette
Having spent her formative years in the former Soviet republic of Georgia, Bela Kosoian knows what it's like for government to encroach on personal liberties. The manner in which she says she was treated inside a Laval Metro station would make even the most hardened Stalinist blush...
Par Djemila Benhabib le 28 mai 2009
Fortement épaulée par des représentantes du Conseil islamique canadien et de Présence musulmane, la Fédération des femmes du Québec (FFQ) a adopté une résolution banalisant le port du voile islamique dans les institutions publiques québécoises, lors d'une assemblée générale spéciale qui s'est déroulée à l'université Laval, le 9 mai dernier, et à laquelle j'ai assisté en qualité d'observatrice. Il y a des alliances et des prises de position qui minent les principes...
Par Dan Delmar le 28 mai 2009
Every traffic cop must write up 18 daily, Brotherhood says
Upset over budget cuts, the Montreal Police Brotherhood took a shot at the SPVM recently by acknowledging the existence of daily traffic ticket quotas; a system the department's brass continues to insist does not exist...
Par Alan Hustak le 28 mai 2009
It's been four years since Mayor Gérald Tremblay first sketched out his ambitious $64-billion plan to transform the face of Montreal. Armed with flow charts, maps and architectural renderings of ''dream schemes," Tremblay spoke to the Montreal Real Estate Board about the "Tremendous potential ahead.'' He was going to tear up the Bonaventure Expressway, reclaim the waterfront, and in a partnership with private enterprise, develop 557,000 square metres of vacant lots downtown. At the time, the city was running a $400-million surplus and the Dominion Bond Rating Service assigned the city an A-Rating for its "spending prudence."
Par Sébastien Dhavernas le 28 mai 2009
Depuis quelques semaines, on a pu apercevoir dans les rues de Montréal, et même sur le pont Jacques Cartier, des publicités qui attirent notre attention : « ANGLAID ». Cette publicité fait référence à un livre, récemment paru et écrit par Michel Brûlé. La prémisse de ce livre est que la structure de la langue anglaise aurait un lien direct avec les abus des peuples anglo-saxons. Ma critique ne porte pas sur le livre comme tel, ni sur les événements du passé, mais plutôt sur la propagation d'une intolérance banalisée et véhiculée par ces affiches, et que je tiens à dénoncer...
Par Mischa Popoff le 28 mai 2009
A year and a half later and Robert Dziekanski's calamitous death is still making headlines. There's no such thing as too much coverage when someone dies tragically, but the notion being perpetuated that the officers who responded to Dziekanski's still unexplained fit of violence are in any way to blame for his death must be laid to rest...
Par The Hon. David Kilgour le 28 mai 2009
While in Shanghai recently, Foreign Minister Lawrence Cannon correctly noted that Canada can keep its "principled position" on human dignity while pursuing trade with China. Principles and reality, however, should have kept him from saying that his hosts"had made progress" on human rights. He ought to know that basic rights for the most vulnerable among the Chinese people are worsening today...
Par David T. Jones le 28 mai 2009
Washington, DC - There are basic needs for human beings: the obvious are food; shelter; sex. And then it becomes complicated for societies where the basics are "givens," and needs become more abstract. Are the freedoms enumerated in the Charter of Rights and Freedoms (and the U.S. Constitution) "freedoms"—or limitations on the actions that a citizen might take otherwise?
Freedom of speech—but at what point does it become slander?
Freedom of the press—but what are the parameters of libel, let alone "hate" when making such speech?
Freedom of religion—but to practice polygamy, let alone human sacrifice?
Par Robert Presser le 28 mai 2009
Relaxing the mark-to-market rules means we will never know what the banks are really worth
The Federal Reserve's stress test results are in and to no one's surprise, all the big US Bank Holding Corporations (BHCs) passed. Getting a passing grade in the stress test, more formally known as the Supervisory Capital Assessment Program (SCAP) was a lot like getting a passing grade in gym class – just because everyone gets by, this does not mean that all the subjects are equally capable and robust. The SCAP report indicates that 10 of the 19 largest US banks should collectively raise an additional $75 billion USD in tier-one capital in order to bolster their reserves to face a protracted recession. The report outlines the various types of assets held by the banks, including toxic assets like securitized mortgages, commercial loans and mortgages originated in-house, consumer loans and revolving credit card debt.
Par Iro Cyr le 28 mai 2009
It is beyond comprehension to see that Health Canada is calling for a ban on the sale and distribution of electronic cigarettes (e-cigarettes) in this country...
Par Teresa Seminara le 28 mai 2009
As I was walking to school one Monday morning, from Guy-Concordia metro station to the SGW Campus, I could not help but wonder what students' motivations are to be in University and whether the recession plays a decisive factor in their pursuit of earning a higher education. Above all, the thought that lingered in my mind as I passed my fellow Concordians was whether they are in University because of what other people want or expect from them or because they simply consider education an investment in themselves...
Par Roy Piperberg le 28 mai 2009
Par Alan Hustak le 28 mai 2009
"Life is real, life is earnest, and the grave is not the goal," reads the caption in the 1954 McGill University Yearbook under Arnold Steinberg's graduation photograph. Whatever life's goal, as a commerce student at McGill five decades ago Steinberg never imagined that one day he would become the university's 18th chancellor.
In Jewish culture, 18 is considered a lucky number - representing as it does the numeric value of the word, Chai, which means Life and is also the 18th letter in the Hebrew alphabet. The irony that he will be sworn in as McGill's 18th chancellor in November is not lost on Mr. Steinberg. "On the day of the announcement I hadn't even thought of it, to be perfectly honest," he said in an interview.
Par l'Hon. Irwin Cotler le 28 mai 2009
Tom Flanagan, the former Conservative campaign manager and university professor, went on the offensive last week arguing that anti-discrimination legislation should rightly target only government – but not private individuals' – action. This thesis is as provocative as it is dangerous. Far from demonstrating the uselessness of the law, Mr. Flanagan's comments instead remind us of how vital a role it plays...
Par P.A. Sévigny le 28 mai 2009
As of two weeks ago, it's been fifteen years since Michael Manning heard his daughter Tara's alarm clock go off while he was making an egg sandwich for breakfast. When nobody turned it off, he went to her room to wake her up for school.
"I still remember how the cover was drawn up to her chin," he said as the tears flowed down his face. "I still recall how I thought she was sleeping until I touched her….and when I pulled the cover off, that's when I knew my baby was dead."..
Par Alan Hustak le 28 mai 2009

10 WORLD CONGRESS opens in Montreal

Montreal isn't the first city that comes to mind when you think of Art Deco, so Peter Sheridan, wasn't sure what to expect when he arrived here from Australia for the 10th World Congress on Art Deco. Sheridan, a Sydney, Australia, dentist who collects art deco radios is one of about 200 enthusiasts from 30 Art Deco societies around the world attending the week-long convention that opened Sunday. The get together was organized by Sandra Cohen-Rose, who 15 years ago wrote a book on the subject, Northern Deco; Art Deco in Montreal.
Par Louise V. Labrecque le 28 mai 2009
En vue de l'écriture de cet essai, Émile Ortenberg semble n'avoir eu pour seule ambition que de vivre un message de lumière. On constate à sa lecture que son propos se résume à merveille par cette seule idée, car c'est bel et bien dans cette optique que l'auteur rend compte de la lucidité, de l'amour et du bonheur que comporte la musique mozartienne, une musique à laquelle, d'ailleurs, de plus en plus de mélomanes accordent un statut tout à fait spécial...