On September 22, 1927, the most famous battle in boxing history took place in Chicago. Gene Tunney, the quiet, literary heavyweight, defended the world championship he had won one year before from Jack Dempsey, the "Manassa Mauler," who had held it for 10 years. This was the fight with the famous "long count" controversy played over many times today on YouTube. It was the first over $2 million dollar gate in entertainment history ($22 million in today's money), seen live by 125,000 people (no TV in those days).
On the 84th anniversary of that moment, Gene's son, journalist Jay Tunney, visited Montreal recently to promote his book, The Prizefighter and The Playwright, about his father's post boxing close relationship with the great playwright George Bernard Shaw.
Jay was a special guest at a mini-benefit for our own CineGael Irish Film Society and also had a Montreal book launch sponsored by the Montreal Press Club. He presented photos and anecdotes not publicly known until now.
Gene as a youth had worked as a lumberjack for a Canadian company. Years later, as a successful businessman, he was on the board of the Globe and Mail.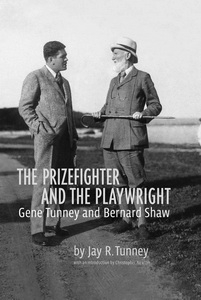 The book recounts the marriage of this poor Irish immigrant stevedore's son to Polly Lauder, the shy society grand niece of Andrew Carnegie. The engagement, somewhat like the recent Kate and William publicity, drove them to Europe to be married in Rome and honeymoon on the "in" island of Brioni.
They were joined there by G. Bernard Shaw and his wife Charlotte. Shaw, the Nobel winner for literature, was partial to Gene, seeing him as the real life incarnation of Cashel Byron, a fictional character created by Shaw some 50 years earlier. Cashel Byron was a literary gent who became a boxing champion.
Of their long philosophical talks about existence, Gene considered it a personal Doctoral education by the leading public intellectual of the early 20th century. Polly became deathly ill during their stay on Brioni. Shaw, the professed atheist, prayed together with Gene for her recovery in a chapel.
Her seemingly miraculous recovery is a high point in the book.
This book is a love story, a portrait of the times, a metaphor of a struggle through adversity and best of all, a darn good read.