Ich Bin Eine Terroristin" (I am a terrorist)
How can an 11 year old French girl so apparently sweet be a vicious communist thug? Invariably children are portrayed in film as sweet and innocent but in this case I see 11 year old Violette (Mathile Besse) in a far more sinister light. A bit like Damien in "The Omen" or Linda Blair in "The Exorcist". Can you imagine an 11 year old girl infatuated with the German revolutionary Rosa Luxemburg running away from home in her small village in France to visit the Luxemburg memorial in Berlin (where Luxemburg was assassinated in 1919) and then to Wroclaw in Poland (then known as Breslau in Germany) to visit the city where Rosa Luxemburg was imprisoned? Far too offbeat for Hollywood fluff. Delightfully European.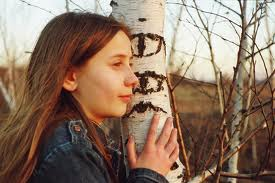 Violette is barely past 11 years of age and constantly reminisces about her late communist grandmother Paulette and the revolutionary Rosa Luxemburg. Is the infatuation with Paulette or Luxemburg? Given Violette's tender age and lack of political experience I say she is transferring her angst over the loss of her grandmother to an idol of her grandmother, Rosa Luxemburg. This obsession Violette has developed for Rosa Luxemburg transforms little Violette into an almost Stalinesque tryant. Not only does Violette wake her younger sister up in the middle of the night and force her to recite Luxemburg trivia but she proselytizes tourists at Rosa Luxemburg Platz in Berlin. This is the nasty side of a 11 year old communist fanatic! If she was older with a gun I have the distinct and distasteful impression she would be ruthlessly executing all who opposed Rosa Luxemburg. This is no sweet little Poltergeist Spielberg character. I am uncertain if there was any intent to create such a nasty little communist in this film. Perhaps it is my fault for studying the Communist thuggery (nationalism) in Eastern Europe (Husak/Ceausescu/Broz etc.) and travelling behind the "Iron Curtain". Being tailed by secret police and waiting in lines for food while talking with the proletarians gives you a different insight as to the realities of communism without having to read "Revolution Betrayed" by Trotsky!
Violette steals away in the middle of the night with 25 € from her piggy bank, Luxemburg's "Letters From Prison" and her grandmother's urn. Off to Berlin where on the train where she meets a Karl Marx look alike. "I always knew Karl Marx was alive." We go with Violette to Luxemburg's memorial in Berlin which has an inscription, " Die Toten Mahnen Uns" meaning " The Dead Admonish Us" which is totally incorrect as with Violette as the dead, whether it is her grandmother or Luxemburg, inspire her.
The plodding childlike music and vocals is increasingly annoying but is assuaged by beautiful and haunting cinematography whether it be decaying industrial Wroclaw, rotting and rusty train yards or the beautiful countryside of Luxembourg. And there are a couple of unforgettable cinematographic events in the film. I think the first would be when Violette is apprehended in a cattle car by Polish frontier guards. Violette delivers an impassioned plea about how she must go to Wroclaw to visit the prison where Luxemburg was incarcerated. The Polish border guards have very little understanding of Violette's French but they are mesmerized by her intense explanation of why she must go to Wroclaw, formerly Breslau when it was a part of Germany. Violette's passion (or fanaticism) convinces the border guards to let her continue on her journey. Passion overwhelming bureaucracy?
There is a bit of a refugee theme permeating the movie. In Poland, Violette connects with a group of refugees trying to sneak into France. She hops a train with them and when asked by the criminal immigration fixer to pay up all she can offer is a few € which results in her being horrifically thrown off the moving train. Somehow surviving this atrocity she surfaces at a communist retiree miner's event in Alsace-Lorraine. In a very moving and fantasy based scene she leads the retiree miner's in a song celebrating historical confrontations of miners with mine owners.
Besse delivers way beyond her years throughout the film and her leading the retired miners in song shows her streak of blind fanaticism. Her screen presence is astounding and inspirational despite the pedantic music and confused ending. It is as if Karl Marx wrote the screenplay for a communistic "Home Alone" here. Emotional jubilation at the miner's celebration quickly crumbles with ambiguous adventures of Violette with Algerians hooting, drinking, stealing and eating couscous. Twenty minutes of off directional mumblings ruins the film's conclusion. Is this about nouveau immigration in France? If the message of Rosa Luxemburg is carried by 11 year old Violette I am terrified. Could this be a cute apparently innocent movie be warning us about the Stalinist excesses of communism? Think about it. The film does not enthrall but Besse does.
( Ich Bin Eine Terroristin, Director Valerie Gaudissart, 2012, French, German, Poland, English subtitles, North American Premiere 14 April 13, The Royal, 608 College Street, Toronto)