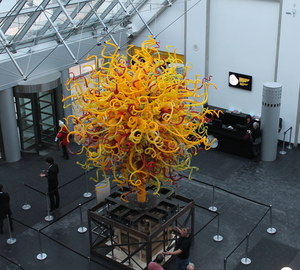 The Montreal Museum of Fine Arts has launched a million dollar fund-raising campaign to acquire the monumental Chihuly glass sculpture entitled The Sun, which enchanted thousands of people this summer when it was mounted on the steps of the museum's Hornstein pavilion. The work has been moved inside to the atrium of the Jean-Noel Desmarais pavilion across the street. The dazzling sculpture is more than 4 metres in diameter, with 1,200 shimmering rays of yellow tendrils accented with elements of blue and red. The sculpture takes four days to assemble. It was the focal point of last summer's Chihuly exhibition, Utterly Breathtaking. It was the first major Canadian museum show of his work and attracted more than 227,000 people. The show's curator Diane Charbonneau said nature is the key to Chihuly's inspiration. "It is always an interpretation, never a real life rendering, it is always more of an abstract interpretation of nature."
The artist created several works especially for the Montreal show, including the Ruby Pineapple, a chandelier which was made in France in 1997, then lost at sea when it was being shipped to America. It took six trucks to bring all of the pieces to Montreal from the artist's studios in Seattle.
When the show ended, the museum received e-mails, letters telephone calls and even donations urging the MMFA to buy the work for its collection.
The MMFA does not, however, have an acquisitions budget. So if the sculpture is to remain in the city the public will have to chip in to buy it. The price has yet to be negotiated with the artist, but Chihuly's works are expensive. His chandelier in the Bellagio Hotel in Las Vegas, for example, cost more than $1-million.
Dale Chihuly has been working with the tower shapes since 1995. His "Peacock Blue Tower," for example, stands in a plant conservatory in Chicago, and his "Saffron Tower" is in a San Francisco museum.
A native of Washington state, Chihuly became interested in glass blowing in college and eventually studied at the Venini glass factory in Venice. Now 72, he is blind in one eye, wears an eye-patch and relies on a studio approach to glass-blowing. The Boston Museum of Fine Arts launched a public campaign last year to acquire its 13 metre tall Chihuly sculpture, Lime Green Icicle Tower..
The MMFA has one of the highest attendance rates of any similar institution in Canada; close to 800,000 people visit it each year.
Any donations in any amount are welcome.