Hardened criminals enfeebled by severe nicotine fits have won their court battle against a sweeping prohibition on smoking in federal penitentiaries.
On Oct. 23, Federal Court Judge Luc Martineau overturned the total ban enacted by Corrections Canada in May, 2008.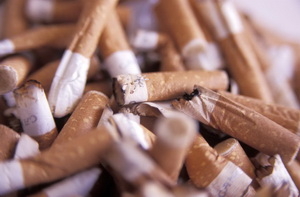 Last year, 19 Quebec inmates - including Gerald Matticks, a notorious mobster jailed on drug charges - challenged the ban on smoking outside and inside prisons, hiring prominent constitutional lawyer Julius Grey to plead their case.
Grey argued the ban violated inmates' charter rights and was discriminatory because guards could still smoke outside.
"There's a certain degree of cruelty in this whole thing," he noted.
"This shows a bureaucrat - no matter how highly placed - can't decide how people live."
Down the road, the ruling may also open up tobacco bans in chronic care facilities, psychiatric facilities and old-age homes, notes Grey.
In fact, anywhere where freedom of movement is limited.
"It certainly seems to me if someone's 95 and he wants to smoke he should be allowed," Grey said.
The smoking ban in penitentiaries came into affect in January 2006 and was later tightened, preventing inmates from smoking outdoors.
In his ruling, Judge Martineau noted that smoking is legal and that the ban had no basis under the current legislation.
Canada's Non-Smokers' Health Act prohibits smoking in or directly outside federal buildings - but not on the grounds as in the case of the prison ban.
He also noted the ban did nothing to reduce or prevent exposure to second-hand smoke.
"The new guideline simply goes too far," the judge wrote in his judgement.
"The ban on outdoor smoking has no rational link with the rights of non-smokers who don't want to be exposed to second-hand smoke."
Grey says the ruling also underscores prisoners' rights.
"You lose your freedom, it's true. But you don't lose your other rights," he said.
The ruling will apply to all federal prisons.
Nearly 75 per cent of the prison population are regular smokers and over 20 per cent have admitted to smoking over 30 cigarettes a day, according to a 2006 report by Corrections Canada.
The federal government has 45 days to decide whether to appeal or change the legislation - and how they will change the legislation if they decide to do so.
Only then will Grey know whether the battle is over.
Quebec has backed off a complete ban in its provincial prisons and allows smoking outdoors but rulings vary from province to province.
However, Aboriginal inmates and other offenders whose religious and spiritual practices could be affected are exempt from the total ban.