Do not assume New York City is "a city". It is a collection of villages within a city. In fact why bother calling it New York City. It's really Manhattan divided by 22 or so. As geographical and ethnic boundaries go so do a couple of wine bars. Drop in for a glass of wine at two distinct villages in Manhattan and see two different worlds of wine.
While you may not be able to afford staying at the landmark The Pierre on 2 East 61st Street surely you can shell out $12 for the cheapest wine by the glass at their "Upper East Side" Two E Bar Lounge. Super mellow art deco shouts out "Relax". Olive green and brown themes demand a chill down. There are 25 by the glass selections available in this classic lounge reminding one of a bygone era. Be native and have a glass of the Hermann J. Wiemer, Finger Lakes New York Riesling and considering the huge plate of parmesan chunks, olives and homemade potato chips you are virtually guaranteed to order another glass before you leave. This place is so relaxed and enhanced with such discrete and elegant service you can quickly forget you are in frantic New York City.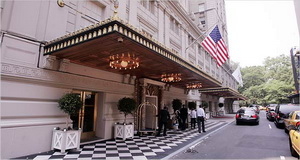 The Pierre is a landmark in New York City and the personages behind the wine at Two E Bar Lounge, particularly Ryan Drushel (Lounge Manager) and Jeffrey Mihalakis (Director of Beverages) are, in typical Pierresque style, quietly passionate about their wine offerings which range from $12-$28 per glass. While there is no sommelier for the Two E Bar Lounge, Jeffrey and Ryan personally evaluate every wine offered looking for unique wines from smaller producers. The big sellers are French chardonnay and California cabernet sauvignon. Top grade Scott Zwiesel stemware is used and pours are directly made from the bottle presented to you prior the pour and you are asked with extreme Old World politeness after the initial pour is made whether you wish to proceed with a full glass. And the pours are very generous indeed. There is a quiet urgency amongst the uber elegant servers to ensure your wine happiness. You may think the tony The Pierre is snooty but this is far from the truth. All imbibers are made to feel welcome from Brooks Brother clad Upper East Side types to less than elegant visitors in track suits and running shoes (a senator from?).
For those who are uncomfortable with the understated elegance of The Pierre or true travellers loving a comparative approach to the city they are visiting combined with a sense of adventure should consider heading downtown to In Vino at 215 East 4th Street. There is no obvious elegance to this part of town known as Alphabet City. Trendy is just developing here. But meet its bubbling co-owner Keith Beavers and you are absolutely knocked over by his passion for wine. This wine bar is no smooth art deco oasis like the Two E Bar Lounge at The Pierre but rather a Tuscan-Mex wine bar which rather suits this area formerly known as the "Latin Quarter". And the passion is evident with over 200 Italian wines and at least 30 red and white selections by the glass but no generous nibbles or high grade stemware like The Pierre. A raw passion from all the servers exudes under the bare yet fashionable wine cellaresque light bulbs. Start a conversation with Keith on wine and be prepared for a blazing passionate discussion on terroir and all other aspects of wine. Like The Pierre there is a passion for wine but at In Vino it is a raging one. As Alphabet City is raw so is Keith's passion for wine. Go to The Pierre or In Vino you'll be well taken care of and see two hugely contrasting areas of New York. Isn't this what travelling is about? And you can do this all before dinner!
So don't get stuck with a boring wine experience in the City of New York. There are countless wine bars but why not start with the elegance and restrained passion of the Two E Bar and Lounge at The Pierre and then head off to the raw enthusiasm and Manhattan revivalism of In Vino. New York City's gentrification over the past 30 years or so has managed to somewhat homogenize the diversity of the city but the diversity of the city lives where you may sit down for a glass of wine. At The Pierre super duper mellow and raw and rough passion at In Vino. At In Vino in Alphabet City there is no obvious elegance but a burning passion for wine. So burning you can find an Ontario white wine. I'll let you find what that Ontario wine is for yourself. Start talking about Canadian wine and Keith may start pouring some vino for you at no cost!