In Polly Of Bridgewater Farm -- An Unknown Irish Story (Cabbagetown Press Limited. Toronto. Ontario. 2009) Catherine Fleming McKenty offers a refreshing look at her own family's life in Ireland and their eventual coming to Montreal and settling in Toronto.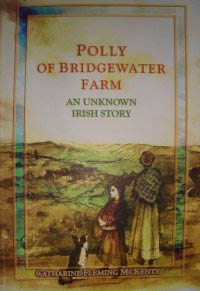 In the author's note McKenty sets the tone: "When I was growing up, few people talked about the million people who died of hunger and disease in the Great Famine. In 2002, thanks to Robert Funston, Florence and Seamus Corey, I set foot at long last on the Fleming farm, on the old coach road near Dromore, nine miles from Omagh in Co. Tyrone. To my amazement the old whitewashed stone house was still there. As I was leaving the farm, walking alone down the lane, I heard voices talking. It was suddenly clear to me that these were voices from the past, as though an invisible curtain had been pulled aside for a brief moment. I had to find out what these voices were saying. This book is the result."
Those who became acquainted with Ireland through the writings of the McCourt brothers, those of Frank in Angela's Ashes, 'Tis or The Teacher Man or Malachi's in A Monk Swimming are now offered a different genre that of dialogue. You can hear the Irish lilt in many of the phrases used byMcKenty and if someone were to read it out loud to you would hear Irish expressions come alive as if the person were standing in the room with you. McKenty develops the narrative with a flare so that you want to follow Polly as her own personality grows from a twelve year old standing at Bonsecours Market in Montreal to see her brother become four-time mayor of Toronto.
Here is but one brief example of McKenty's ease with the English language. "She heard a rustle of footsteps in the grass. It was her mother, come to find her, "It's safe to come home now, Polly," she called gaily. "Mrs. McAlistair has fallen fast asleep. William has brought in a fresh pail of milk, and cleaned up the spill, and we are going to tell Mrs. M that she dreamed the whole thing." Jane was laughing like a young girl, cheeks blooming, eyes dancing. Polly has seldom seen her mother look prettier."
The book is great reading even if you were to have absolutely no interest in reading about someone else's family. The book is McKenty's gift to the Flemings, an untold story until now, and a masterful interpretation of how her family can serve as an example of so many Irish families who came to Canada as a country of refuge and opportunity. You won't be disappointed. You will be able to experience the very pleasure of reading a well constructed and extremely well presented inner look at a present-day Montrealer's family history.
If you are of Irish descent you will quickly identify with your own roots and wonder about your own family roots. If you are not Irish reading about Polly of Bridgewater Farm will offer you an entry into your Irish neighbour's history and considering the fact that twenty to thirty percent of French-speaking Quebeckers have Irish blood running through their veins it may serve as a lesson as to how much all cultures share a deep seeded need to understand each other. The book presently is being read in approximately fifteen Catholic and Protestant school in NorthernIreland as a way to understanding.