Les Misérables, the movie version of the durable stage play which has been running for 30 years, is an epic three-hour opera, with almost no spoken dialogue, and probably the best screen musical since West Side Story won 10 Oscars fifty years ago. Tom Hooper, who directed last year's Oscar w inning, The King's Speech gives us a production that creates 19th Century Paris on a grand scale, a film that is simultaneously intimate and spectacular, even if, from time to time is also tuneless, choppy and occasionally tedious.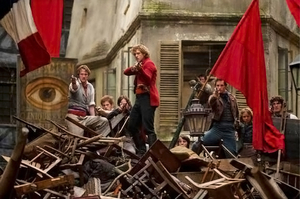 In a nutshell, Les Miz is a sprawling tale about injustice, redemption and the power of forgiveness. Culled from Victor Hugo's 1862 novel, (which was first brought to the screen in 1929) it was turned into by Claude MicheL Schonberg and Alain Boubil into a rousing musical, which was last played Place des Arts two years ago in French and in English. It tells the story of Jean Val Jean, a character who fits Robert Browning's definition of "an honest thief," whose suffering goes far beyond reasonable punishment for his crime.
Hugh Jackman, who portrays the heroic everyman, Valjean, proves with the role that he is the most versatile actor around. From the opening sequence, when like Christ, he is symbolically forced to pick up his heavy cross, until the maudlin final scene, in which he sings the haunting Take Me Home, Jackman is hypnotically persuasive as a tortured man who endures his own personal road to Calvary.
Russell Crowe, as his singularly obsessed nemesis, Inspector Javert, barks his way along in his precise baritone. The entire cast sang their songs live, rather than lyp-synch to pre-recorded music, which gives the movie its air of spontaneity. Anne Hathaway's Fantine is filled with angry longing, Amanda Seyfied is touching as her anxious daughter Cossette. Eddie Redmayne is delightfully surprising as the student revolutionary, Marius, especially when he sings Empty Tables, Empty Chairs, the agonizing final salute to his fallen comrades.
Helena Bonham Carter, and Sasha Baron Cohen as the villainous Thénardiers look as if they wandered into the film from Sweeny Todd. They provide slapstick comic relief when it isn't needed. Colm Wilkinson, who originated the Valjean role, has a cameo in the film as the virtuous Bishop of Digne who pardons Val Jean for the theft of his candlesticks.
It is, however, the big production numbers near the end of the movie, beginning with Red and Black, and the sequences depicting the 1832 student riots in Paris that invigorate. Young Daniel Huttlestone especially is engaging as the tragic street urchin, Gavroche. The funeral procession which provokes the song of angry men, Do you hear the People Sing? is as suitably rousing in the cinema as it was in the theatre. Samantha Barks is heartbreakingly moving as the martyred Éponine .
Whatever its shortcomings Les Miserables finally explodes on the screen. Fans of the stage show will love it; even skeptics who don't like musicals will cheer.