Embrace the kitsch.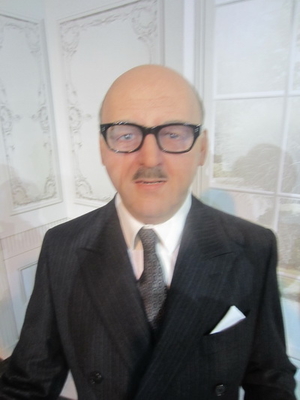 Almost 30 years after the wax museum at the corner of Queen Mary Road and Cote des Neiges closed its doors an interactive exhibition featuring wax celebrities has opened again, this time downtown in the Eaton Centre. More than 120 life-size figurines are arranged in lavish settings on the top floor of the The work of artisans with the celebrated Grévin studio in Paris, the exhibition is, for the most part, geared to a francophone Quebec audience.
You can gaze at mannequins that resemble Quebec pop stars Diane Dufresne, Céline Dion, René Angelil, Roy Dupuis, Roch Voisine, Jean-Pierre Ferland, Luc Plamondon, and even Saints Brother André and Marguerite Bourgeouys. There is a nod to some Anglo culture, but not much. Don`t look for Leonard Cohen, for example, or for many Anglo-Canadian movers and shakers.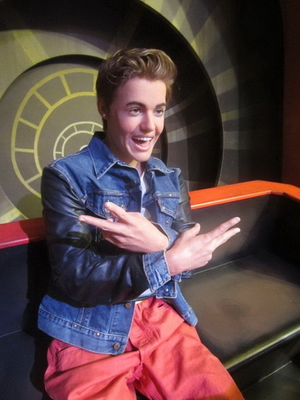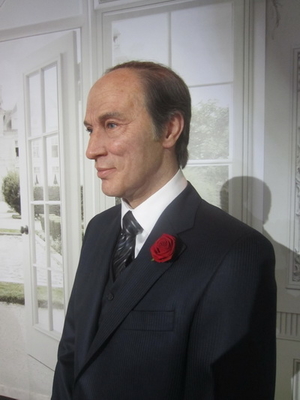 Justin Bieber is represented, but you won't find images of Justin Trudeau. Yet. Pierre Trudeau, however, is there, standing off to the side, rose in his lapel, in a tableaux with former Montreal mayor Jean Drapeau, one-time premier René Lévesque and the late French President Charles de Gaulle. By far the most lifelike is the figurine of hockey player Guy Lafleur, hair streaming in full flight; the least life-like is the image of U.S. President Obama, which looks more wooden than wax. Not everyone who tours the show will wax eloquent; some may find it a bit creepy, like a Quebec-centric mausoleum, others will revel in the retro atmosphere as they admire waxen images some of which are so life-like you expect to see them breathe. The final galleries are historic figures, Champlain, Jacques Cartier, de Maisonneuve, and Wolfe and Montcalm.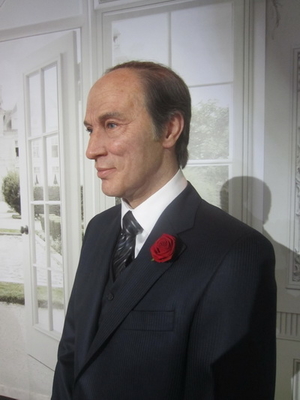 The stylish, over-the-top theatrical settings are the work of Montreal event orchestrators Dick Walsh and Julien Bertevas. There is the inevitable gift shop and a bistro café.
The Grévin gallery is open from 10 a.m. to 6 p.m. on weekdays, and from 11 a.m. to 5 p.m. on Sunday. A family pass good for two adults and two children is $53.