There are restaurants around Montreal that were anchors of my youth, all gone but certainly not forgotten by those of a certain age. I remember lunches at the Brown Derby with my best friend, Bernie Hyams, dinner at Pumpernick's after my grade school graduation, watching Magic Tom at the Beaver Club at the Queen Elizabeth hotel, and the list goes on. These restaurants were gathering places for clients of many generations, ethnic and linguistic backgrounds, and they mingled in these locales as if they were public squares. Le Mas des Oliviers on Bishop was one of those restaurants where the business community mixed with politicians and notables at lunch and dinner, and for forty years owner Jacques Muller and his crew served them timeless French cuisine in a ground level location that mixed Norman Conquest décor with Quebec charm and grace.
Le Mas closed on October 2nd. I don't usually get emotional over restaurants, but Jacques' decision to retire leaves a major hole on the Montreal restaurant scene, and having eaten there for 35 of my 51 years I am at a loss to find another restaurant downtown that reflects the cuisine, service and general ambiance that existed in Montreal French restaurants in the 1960's and 70's. There was Le Paris on St. Catherine near St. Mathieu, whose interior seemed inspired by the Art Deco interiors of the Normandie ocean liner, the couple who ran it always greeted you as if you were family. After a brief closure, Le Paris emerged with new ownership, but it is not the same. Jacques understood that you cannot just pass on the physical space, utensils and menus of a restaurant and expect the aura to endure; it was his environment, his essence, and the soul of a restaurant is a delicate and fragile element that rarely survives an owner's retirement.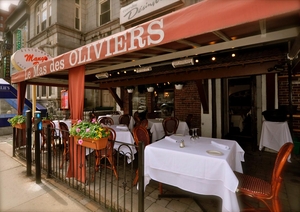 I think that what I will miss the most was the very different crowds that ate there between lunch and dinner. At lunch, it was a dark suited, Anglo-French business crowd who seemed to all know each other, looking around the room as they entered to take their seats and dine on expense accounts. A politician or two could always be found, Brian Mulroney was a regular and I had the opportunity to introduce my sons to Daniel Johnson, ex-premier of Quebec, when he was dining with his wife quietly at the back of the restaurant. I sent my older son over to thank him for his service to Quebec, and he was so touched that he came over to see us. The intimate environment at Le Mas made moments like this possible, as if we were all sharing a small club that Jacques had created for us.
Dinner was different; there were tourists, older people who were regulars, post-closing dinners of more boisterous business people, and some diners like my wife and I, our friends, and occasionally guests of mine from out of town with whom I wanted to share a dining experience unique to Montreal. For a small space, there were a large number of round tables that could seat up to eight, leading to better conversation for all the guests. Although we are no longer young, we were on the younger side of the dinner crowd. It's possible that Jacques felt that the millennials were looking for an edgier dining experience, more like Joe Beef or even La Coupole, and that he was unlikely to have the younger generations come to his place.
Today, the linguistic and cultural divides are fading in Montreal – we all go and eat at everyone else's restaurants. My wife and I dined several times at Au Cinquième Péché on St. Denis (now closed, sadly) and we were not the only Anglos in the space. Forty years ago, that kind of mixing was far less common, but Le Mas was one of those places where the two solitudes met and mixed effortlessly. If there was a place that promoted rapprochement over a bottle of St. Emilion and a bavette with a side of crispy fries, this was it.
This is not simply a case of restaurant nostalgia, but a recognition of people, personalities and public spaces that enabled the evolution of Montreal into a pluralistic and mutually-appreciative society. I know that Le Mas and Jacques Muller played their part. They will be missed, but fondly remembered for their culinary and cultural legacy for our city.