From a dark eyed boy scrounging off the streets of India and a baby born an old man, to a shamed American president, a martyr of the gays rights movement, and, finally, a young man's love affair with an SS concentration camp guard. Now that's pretty eclectic!
That's the Oscars - from the gushy interviewers on the red carpet, to the personalities dressed to the hilt - and all that cleavage - the Oscars has it all. Come on, admit it, you were watching. And those one hundred thousand Swarovski Crystals for a curtain! That's downsizing Hollywood style? Bling-bling rules!
Hugh Jackman proved himself, once again, to be as tremendous a talent at hosting as he is an actor. His opening scene was creative and entertaining. And he is oh, so smooth. Wonderful, Mr Jackman! That standing ovation was so well deserved.
For 81 years, the Academy of Motion Picture Arts and Sciences has held it's yearly love fest with itself, allowing us to zoom in on the lives of the 'stars'. While the show has come under fire the past number of years, it should be remembered that the Oscars is for and about the people in the film community and not a show with the primary focus of 'wowing' the public. Eighty-one years is quite a feat, with a topic that many feel is plastic, superficial and trite – especially when the world is in such dire financial straits.
But isn't it great to get away from all that? Isn't it perhaps exactly what we need in these dull, grey times? Perhaps some Lawrence of Arabia theme music a la swing, or an all out musical sequence in black tie and top hat.
It all started in 1927, pre-recession, around a dinner table at Louis B. Mayer's Hollywood home. He, along with actor Conrad Nagel, director Fred Niblo and producer Fred Beetson, began talking about creating "an organized group to benefit the entire film industry". The word spread. The idea caught fire.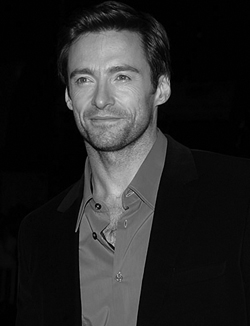 Shortly after, there was an official meeting with some of the most influential men and women in the motion picture industry of the day: Louis B. Mayer, Mary Pickford, Sid Grauman, Jesse Lasky, George Cohen, Cecil B. DeMille, Douglas Fairbanks, Cedric Gibbons and Irving Thalberg. Douglas Fairbanks was chosen as the Academy's first president. It was through his involvement with the Academy that he also developed the first university-level film studies curriculum, personally delivering the first lecture in film appreciation at USC. There were a lot of 'firsts' for Fairbanks. He was co-founder of United Artists, and he and his wife Mary Pickford were the first to be immortalized in the Grauman's Chinese Theatre footprint ceremony.
In May of that year, there was a gathering at The Biltmore Hotel where Thomas Edison, inventor of the kinescope, was granted an Honorary Membership. The Academy had just been granted it's charter as a non-profit organization and 230 of the 300 guests present signed up as members, each paying 100 dollars for the privilege.
The very first awards ceremony, as we know it today, was held in 1929 at the Hotel Roosevelt, in Hollywood, to honour outstanding film achievements of 1927 and 1928. It was hosted by Douglas Fairbanks and director William C. DeMille. It was the first time that The Academy Award of Merit was handed out.
Don't recognize the name? He's the little man we call 'Oscar' whose common moniker derivation has spiked many a tale. Was the Oscar named after Bette Davis' husband, Harmon Oscar Nelson?(Davis was president of the Academy in 1941 but resigned after two months in.) Or was it suggested by the Academy's Executive Secretary, Margaret Herrick, who, when she first saw the award in 1931, commented on how much he looked like her Uncle Oscar? We do know that the term 'Oscar' was alluded to very early on. Walt Disney referred to it in his acceptance speech in 1932. Wherever it came from, Oscar is one man everyone in the film business covets. Anyone who earns it does, indeed, benefit from receiving such recognition - the professional fees demanded after being a recipient of the award can mount into the millions.
This year, Oscar presented a plethora of wonderful movies and brilliant performances. But the Best Picture win of Slumdog Millionaire was a given. It had already won the BAFTA and The Golden Globe and walked off with eight Oscars. The heartrending story of a little boy trying to survive on the streets of Mumbai won the hearts of the public and the respect of the Academy – And how wonderful to see such a film can conquer America!
Oscar winners from the past came out on stage to directly honour each of the main Oscar nominees. It was personal and satisfying. The audience responded warmly.
Still much too long, the Academy should cut the technical awards and hand them out at one of the pre-Oscar events. That didn't stop Canadians from watching. At its peak, 5.5 million Canadians tuned in to watch Heath Ledger's family pick up his award for Best Actor in a Supporting Role. Overall, 4.5 million Canadians tuned in making it the most watched show on television this year.
The Academy of Motion Picture Arts and Sciences delivered an Oscar award ceremony that was utterly professional, highly polished and thoroughly entertaining thanks to Hugh Jackman.
The Oscars may be trite. They may be superficial and considered nothing more than escapism from the world's daily travails but for a few hours, at least, the world is united and that ain't bad.
And yes, Mr Jackman, the musical is back!