Who would have thought of being blown away by gaffer extraordinaire Dale Chihuly at Montréal's Musée Des Beaux-Arts? A gaffer blows glass and such glass is on display! Incredibly complex colours and not merely glass objects but installations of fantasy and colour. Dale Chihuly was born in Tacoma, Washington in 1941 and has left a creative trail behind him over the years. If you are familiar with Italy's Murano glass you might be getting an idea of what Chihuly is all about except he has taken Murano to another level. There is no doubt in my mind Chihuly is a creative genius and spend 45 minutes admiring his installations you'll be so gorged with in your face artistic sensuality there is absolutely no point in visiting the rest of the Museé because it would be a senseless sensory overload.
Chihuly has a solid academic and practical training including an MFA in ceramics. The loss of an eye in a U.K auto accident in 1976 and then a dislocated shoulder in a body surfing accident in 1979 renders him unable to be his own gaffer so he has to supervise gaffers to fashion, or rather blow, his creations.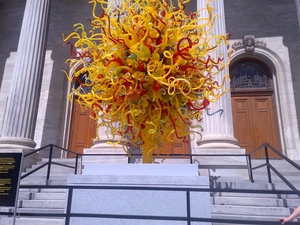 They say a picture is worth a thousand words so just take a look at a Chihuly creation hanging outside the Musée. Being a hardnosed journalist I am not going to simply show a few pictures and head for the exit but try and explain to you in an enticing but failing fashion why you must attend this breathtaking exhibit.
Your introduction to Chihuly is with "Persian Ceiling". Steel girders and glass act as a base for a ceiling display of wild and wonderful glass objects. Whimsical yes but technically marvelous glass blowing. Imagine scuba diving in clear blue seas with psychedelic cones, balls, cherubs jelly fish and stingrays over your head. Bean bags are available for the dramatic types that get a thrill looking silly on the floor observing Persian Ceiling. Bad taste can be found at a museum. Please this is no Disney cruise.
"Chandeliers and Towers" features more otherworldly chandeliers which were inspired by Chihuly's European travels. As Chihuly states, "I felt that the chandelier was a very overlooked form in the 20th century and that chandeliers were and are very important in defining space, architecture and without or inside."
"Boats" are boats full of strange glass objects. One boat has glass balls and globes while the other has plant looking creations such as tendrils and irregularly shaped flower stem forms. It's all so weird and unreal I almost expect Kim Jong-iL to appear as a captain of the two boats....now that's a bad trip man!
Perhaps the most spectacular is "Mille Fiori" a glass garden that only requires Grace Slick singing about Alice and Magic Mushrooms in was it "White Rabbit"? This is a huge masterpiece full of lots "of plant looking things". Perhaps a picture would have been better than this paragraph. I think so. Go see this!
(Chihuly Un Univers à Couper Le Souffle, Musée Des Beaux-Arts Montréal, 8June-20October 2013)