Corinne Sevigny, who died Friday, at the age of 90, was an indomitable character who was connected to pedigreed political families in both Canada and the United States. Her paternal grandfather, Francis Kernan was the first Roman Catholic to be elected to the United States Senate. Her maternal grandfather, Sir Charles Fitzpatrick, was a former Quebec lieutenant governor and one of Louis Riel`s defence lawyers. Raised in an atmosphere of privilege, she was a no-nonsense, powerhouse of a woman, who in the words of one friend, "is now in heaven, undoubtedly telling the angels what to do and how to do it."
According to family lore, her father, who was Chairman of the Board of Donnacona Paper Company, expected his wife to bear him a son who would be groomed to become President of the United States. His pregnant wife was bound for New York to have the child. Corrine Kernan however, was born in Montreal on May 26, 1924, before her mother could make it across the border She was educated in an Ursuline convent in Quebec City, then sent to Milton Academy, a private girls school in Massachusetts, where she studied European history. As soon as she graduated in 1941, she joined the Canadian Women's Army Corps and trained as a mechanic. In 1946 she married Canadian War hero Col. Pierre Sevigny who went on to become the Associate Minister of National Defence in John Diefenbaker's government.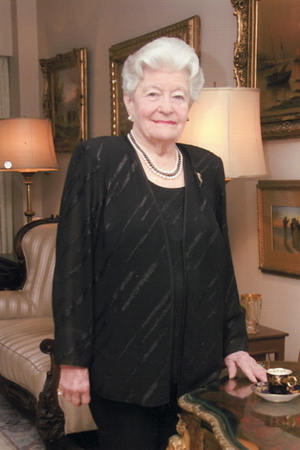 She dreamed up the idea of world fair for Montreal much bigger than what was being talked about, and it was at her urging that her husband suggested the concept to cabinet when Moscow withdrew its bid to hold the fair in 1967. In his history of Expo of 67, The Best Place to Be, John Lownsborough writes that Madame Sevigny remained indignant that "her husband's pioneering efforts in the cause of Expo were overlooked later on." She remained loyal to her husband and rode out the political scandals that brought down the Diefenbaker government. She was one of the founders of the Queen Elizabeth Health Centre, worked with recovering alcoholics, and was a community activist who helped raise money to repair the Casavant organ in the church of St.. Leon de Westmount. She was also an accomplished amateur artist who enjoyed working in watercolours.
In an unpublished memoir, she once said that all she wanted was her husband to become Quebec's Lieutenant-Governor, so she could step into the role of chatelaine that her grandmother once held. A formidable woman, who everyone knew as "Clou," she was a grande dame in the Order of St Lazurus. "I love politics. I was brought up with politics. I adored my husband, but I could never have been a politican. I have always been too opinionated to toe any party line," she wrote.
She was predeceased by her husband in 2004.
She leaves three children, Pierette, Albert and Robert.
Funeral services will be at St Leon de Westmount Wednesday Oct 8 at 11 a.m.