Comparisons are odious. Books are not movies. Movies are not stage plays and Broadway musicals are something else altogether. The Segal Centre's production The Apprenticeship of Duddy Kravitz, the musical, which had its run extended into July even before it opened, stands on its own as a fearless, reimagined version of Richler's classic novel. Even Richler's widow, Florence and eldest son, Daniel who were at the opening approved. But it is a show with limitations, not so much a musical as a play with music. You keep waiting for a signature show tune, an anthem to hum as you leave the theatre, but there isn't one. Eight songs into the first act, a song and dance routine, Art and Commerce, encapsulates the spirit of the evening and finally kick starts the show. With that number librettist David Spencer thumbs his nose at purists in the audience who might object to the touch of schmaltz that was added to transform Richler's novel to the stage. The message in the tune is clear: Art is uncompromised vision; but mounted and marketed properly, you can give audiences what they want to hear. Composer Alan Menken, whose achievements include Beauty and the Beast and Newsies, has come up with a unobtrusive musical score that carries the plot along but fails to stir the emotions.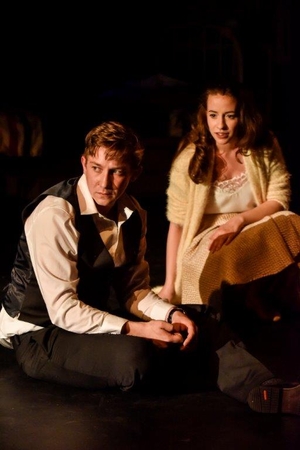 In this version Duddy's father, Max, (George Masswohl) chats up the audience and tells us the story about his son's chequered past. Yes, Duddy was a scheming little bastard. But now that he has presumably married Yvette and built his Kravitzville in the Laurentians he's apparently put aside his childish ways. What we get is a sympathetic portrait of a not- so- nice Jewish boy who was "born with a rusty spoon in his mouth," which helps to explain why he had to cheat to get what he wanted out of life.
In spite of the limitations, Ken James Stewart in the title role is a marvel. Duddy Kravitz is a complex, challenging part to pull off. From the moment Stewart appears at Wilensky's, the neighbourhood deli, he seizes the spotlight and never lets go. He gives us a charismatic dreykop with a disarming grin - a shady but sweet faced swindler who, in the massaged ending is understandably forgiven by the friends he betrays simply because "someone has to."
The production is blessed with a superb supporting cast; the superior performances come from Marie Pierre de Brienne as Yvette, Duddy's French-Canadian love interest, David Coomber as Virgil, the handicapped partner Duddy betrays, Michael Rudder as the sinister rackateer Jerry DIngleman and Kristian Truelsen as the blacklisted film-maker Peter John Friar. The evening's biggest laugh comes when his over the top documentary of a Bar Mitzvah is screened.
Designer Michael Eagan's costumes are fine but his stylized backdrop of Richler's St. Urbain Street, a once thriving Jewish Ghetto, is all wrong - it is a streetscape more out Manchester than Montreal.
Richler's characters are rooted in a specific place, Duddy is a homegrown musical efficiently directed by Austin Pendelton. The Segal's production is as entertaining a Duddy as its gets. That said, whether it will move audiences outside the city to the same degree as it does at the Segal remains to be seen.