Montreal community activist and Robinson, Sheppard, Shapiro family law specialist Brigitte Garceau won election last weekend as Vice-President (Francophone) of the Liberal Party of Canada at its Vancouver convention. The Beaconsfield resident organized a campaign worthy of leading political strategist Warren Kinsella. The title of one of his books, Kicking Ass in Canadian Politics, could well describe the successful run she made.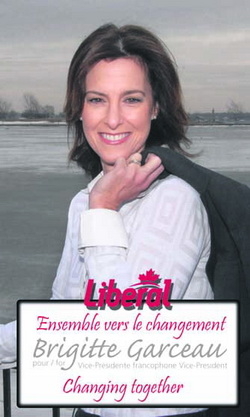 Garceau is well known to readers of The Métropolitain for her efforts in helping save the Maison du Partage d'Youville food bank and community kitchen, and for conceiving and organizing the "Cassandra's Lilacs" benefit concert through her Garceau Foundation in conjunction with the Institute for Public Affairs of Montreal. A long time Liberal activist, Garceau has had a powerful ascent over the past three years.
In addition to being President of the Westmount-Ville Marie Federal Liberal association, she was elected regional president of the Liberal Party of Canada's Quebec wing responsible for the nine ridings covering the western part of Montreal and became vice-president of the Quebec Regional Commission. She also sits on the board of directors of the LPC(Q), is the Quebec representative on the national membership rules working group and is a member of the national Council of Presidents.
She burst onto the national scene last fall as co-chair of the party's Change Commission with former party president Doug Ferguson and Ontario MP Carolyn Bennett. The trio held whirlwind coast-to-coast hearings this past March listening to grassroots members' hopes, frustrations and concerns. She co-authored the commission's report entitled "Advancing Change Together: A Time to Act".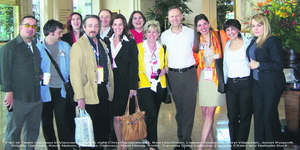 Garceau proved herself to be a true rassembleur during her campaign, bringing together a national coalition of supporters from coast to coast. She was endorsed by over five dozen major figures in public and party life. They included local MPs Irwin Cotler, Marlene Jennings, Raymonde Folco, Lize Zarac and Bernard Patry; New Brunswick's Dominic Leblanc, Ontario's Carolyn Bennett and Sen. Jerry Grafstein, Manitoba's Sen. Rod Zimmer, BC MPs Joyce Murray and Keith Martin, among many others. Four provincial presidents and a good part of the national executive endorsed Garceau as well, including newly elected national president Alfred Apps. National and provincial women's, seniors and youth commission presidents also got on the Garceau bandwagon.
It was in a very real sense a national campaign as much as a campaign for national office rarely seen in races for party offices. It "kicked ass" in Kinsella's term.
But despite the "shock and awe" of the big names — something not lost on Garceau's opponents — the heart and soul of her race were the grassroots volunteers who made hundreds of calls, sent thousands of e-mails and worked Facebook like its never been worked before. Representing the broad membership that was the focus of Garceau's platform, the volunteer core started with the Montreal-based Liberal Renaissance reform group. But Garceau, and campaign director Leanne Bourassa, quickly built a national network of some four dozen seasoned workers.
Their shock and awe "up-from-the ground" campaign was a wave that stopped Garceau's competitors cold. Almost 20 non-BC members of Team Garceau descended on Vancouver to savour the victory they had fought so hard for over the previous two months. The personal dedication to Garceau was not lost on anyone at the convention.
Clearly gratified by her victory, Garceau did not forget her earlier pledges. "My seat will be your seat" she promised to the grassroots she wants to empower, and she intends to make that a reality. Running under the theme of "Changing Together", among her major platform proposals are the creation of a members secretariat as a rapid response group to grassroots concerns; regional priority agendas particularly for francophone rural areas; outreach programs to get riding members involved in community activism as well as party activism; seamless availability of data and documents in French and making the party's web pages not just promotional domains but a forum for all members' concerns. These are but some of the points from her detailed four-page three-sectioned platform.
But Brigitte Garceau's message is not limited to fine points of policy and platform. It is clearly proposed and candidly expressed. "Change," she said, "has become the major buzzword in politics across North America the past year. But change must be more than a word. After 25 years of service to this party as a grassroots volunteer from riding to regional levels, I came to understand what Canadians wanted and needed. Our hopes and concerns are not parochial or particular but are shared from coast to coast. What I have learned most of all is that change is more than a theory in a book or the tweaking of a website. Change is about making every person count!"