Sharman Yarnell

Tous les articles

Imprimer
Auteurs > Sharman Yarnell
Sharman Yarnell
Par Sharman Yarnell le 16 octobre 2013
A drive into New England's coastal area for the fall colours and a dose of history is just the thing - a history that is rather relevant when we consider what's happening here in Quebec with the Marois government. People's rights being taken from them, finger pointing, religious persecution - their rights of belief, rights of behavior, rights of thought, even - were summarily denounced, illegally declared criminal against all normally accepted laws of humanity and social behavior - and heavily paid for.

Par Sharman Yarnell le 22 juillet 2010
NEW YORK, NY - Although the past few months have seen some closures of those "sure-fire hits," Broadway is alive, well and high-kicking through the summer and into the fall. However, the Bard's claim, "the play's the thing," should probably read "the revival's the thing."
Most of the draws at the box office, except for a couple, are all tried and true productions from the past. Where are the writers, the lyricists, the great librettists of yore?
Par Sharman Yarnell le 23 avril 2010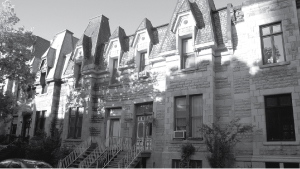 It's springtime in Shaughnessy Village and the residents are out-and-about after a long hibernation. It has a wealth of cultural diversity. What an amazing mixture, a true melting pot, of not only cultures, but people from different social status. On one block alone there are Indians, Germans, Ukrainians, Italians, Haitians and Irish. Anyone thinking of purchasing property in the area would be joining actors, lawyers, architects, authors, a dentist, an opera singer and a playwright.



Par Sharman Yarnell le 26 février 2009
From a dark eyed boy scrounging off the streets of India and a baby born an old man, to a shamed American president, a martyr of the gays rights movement, and, finally, a young man's love affair with an SS concentration camp guard. Now that's pretty eclectic!..
Par Sharman Yarnell le 5 février 2009
She was born in Belleville, Paris in 1915 and died at age 47 in 1963. Little did she know the lasting affect that she would have on generations of music devotees the world over. She was once the most highly paid star in the world, but when she died, much of her savings had been spent on alcohol and a drug habit...
Par Sharman Yarnell le 15 janvier 2009
When I interviewed him at a Montreal Actra Awards ceremony, William Shatner recognized a number of Montreal theatre icons as being instrumental in creating a strong foundation for his career in acting...
Par Sharman Yarnell le 18 décembre 2008
Some years ago I was asked to audition for a stage play called Extremities. It was hot on Broadway with Susan Sarandon in the lead, and Elite Productions was mounting it here in Montreal...
Par Sharman Yarnell le 16 octobre 2008
The year was 1964. The date was February 9. It was Sunday night and everyone between the ages of 5 and 85 was glued to the old black and white television set, waiting for the phenomenon that had arrived in New York to appear on The Ed Sullivan Show...
Par Sharman Yarnell le 18 septembre 2008
At a time when funding for the arts is contracting, it is significant to note that we have also lost a man whose perseverance and creativity pulled The Stratford Shakespeare Festival in Ontario out of deep financial debt...
Par Sharman Yarnell le 4 septembre 2008
Time for Montrealers to raise a glass and celebrate the theatre that has given our city years of innovative, provocative and classical works...
Par Sharman Yarnell le 7 août 2008
Broadway bound this summer? Consider: A late night walk along Broadway with the neon lights glowing along the streets from 42 Street to Times Square screaming at you, beckoning for you to turn onto them and take in one of the greatest celebrations of the human spirit – the Broadway play...
Par Sharman Yarnell le 26 juin 2008
Little did she know the affect she'd have on the province's tourist trade and economy when she wrote the story so beloved by Canadians and others in so many countries the world over. She couldn't have conceived that her story and its sequels would be turned into movies, award winning television series and a musical that is staged to sold out houses every year in her home province...
Par Sharman Yarnell le 12 juin 2008
Once again, The Fringe Festival is serving up a cornucopia of stage delictables, with something for everyone. You might say this is art with no strings attached, art with no holds barred, where anything and everything goes. From dance to drag, drama and music, it has it all...
Par Sharman Yarnell le 29 mai 2008
To be or not.... That is the question in many Montrealers minds when it comes to English Theatre. And for good reason...
Par Sharman Yarnell le 15 mai 2008
The shadows of the past are darker in some lives than in others. Those belonging to survivors of the Holocost follow their every move into different continents, into different lifestyles, into different homes. In many cases, they are memories that become a cancer, a cancer that eats away not only in themsleves, but deep into the very core of their families...
Par Sharman Yarnell le 1 mai 2008
She's vivacious and warm. Her soul is the very essence of Jazz and Blues. Few in this city perform it better.
She's Ranee Lee...