Beryl Wajsman

Tous les articles

Imprimer
Auteurs > Beryl Wajsman
Beryl Wajsman
Par Beryl Wajsman le 24 janvier 2012
It is a period that reminds us of those historical encounters between governors and governed, when every act of the authorities exasperates the people and every refusal to act excites their contempt. A period of 12 days that should rend our souls asunder with searing intensity and pierce our hearts with rapier-like violation. A period that begins with a date held sacred to all those of conscience who engage in the struggle for mankind's transcendent yearning for redemptive change. A period that ends with a date that challenges us to fulfill that struggle as we bear witness to mankind's debased desertion of any of its noble aspirations.
Par Beryl Wajsman le 10 janvier 2012
Ça fait trop longtemps que le Parti libéral essaie de définir le libéralisme comme un ensemble de pratiques comptables ou de positionnements politiques centristes. Le libéralisme ne peut pas réussir une fois réduit à une stratégie qui plaît à tout le monde. Le libéralisme n'est pas facile, il est difficile. Il est difficile parce qu'il représente surtout l'idéal dont son nom origine : la liberté. Le libéralisme et les libéraux réussissent quand les gens à trouver le courage de surmonter leurs craintes.
Par Beryl Wajsman le 16 décembre 2011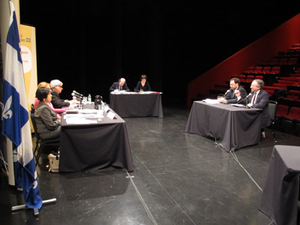 We have to give credit where credit is due. When The Suburban's publisher Michael Sochaczevski and I testified in front of Culture Minister Christine St-Pierre, and her commissioners, hearing testimony on the Payette Report that seeks to institute journalistic accreditation creating two classes of writers, we came with a long list of concerns. Not only those of The Suburban and The Métropolitain but also those of the 31 member Quebec Community Newspaper Association whom we represented.



Par Beryl Wajsman le 26 octobre 2011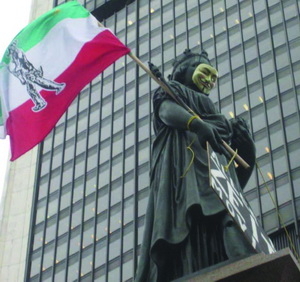 Ok, everybody gets it. Economic disparity between the wealthy and the workers is expanding at a faster rate than at any time in the post war period. We have seen the destruction of a free and fair market by rapacious corporate chieftains. But why occupy Wall St.? The problems do not lie in Wall St. or Bay St. and certainly not in Pace Victoria.
If these protestors really understood the markets, they would know that the stock exchanges are the great equalizers. No you can't beat the markets. But if you understand them, then a relatively small amount of money, properly invested, can produce a healthy supplementary income. People should pay as much attention to that as they do to sports.

Par Beryl Wajsman le 26 octobre 2011
No, this is not another essay about the abomination of the modern theocratic kamikazes of the Middle East and why we must remember 9/11 because of them. Enough has been written about that. Legitimacy or condemnation, applause or denunciation, they seem to all assume a single phenomenon at issue: killing for a cause, strategic murder. However, they sadly miss the point. These are very different activities indeed. A new manifestation of an old evil was loosed upon the world that day 10 years ago.
Par Beryl Wajsman le 10 octobre 2011
The excuse used by Mayor William Steinberg to justify the inclusion of the Jewish New Year and Yom Kippur in existing Hampstead anti-noise by-laws was damaging and wrong-headed. Statutory holidays on which municipal workers don't work is one thing. But to overlay that with a veneer of religion to satisfy specific groups is quite something else. Freedom of religion, in the words of James Madison, is also freedom from religion. The idea is to live and let live. Allow the broadest possible latitude in which everyone can fend for themselves. Religious strictures should never be imposed by any governmental authority.
Par Beryl Wajsman le 26 août 2011
The global economic crisis has led many commentators and politicians to engage in heated debate over the appropriate balance between increasing government revenues and decreasing government spending. With sovereign debt in doubt throughout the west, the debate is sorely needed. But what is not needed is the hijacking of language and the misrepresentation of the issues that flow from that act by placing the vulnerable among us at the greatest risk.
Par Beryl Wajsman le 10 juin 2011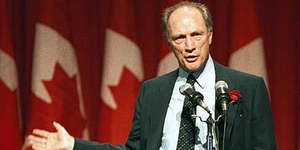 Il semble que l'élément le plus important à retenir de la dernière élection fédérale soit le supposé renouveau de la gauche. En fait, cet élément est un non-événement. Il n'y a pas eu de renouveau de la gauche. On tente ainsi de démontrer que le succès du NPD est d'abord un phénomène québécois enveloppé dans une «énigme» du Québec. On tente aussi de nous faire croire que ces élections signifient un pays divisé et désespérément polarisé entre une droite récalcitrante et une gauche autocrate. Et pourtant, les raisons sont toutes autres : la fatigue des Québécois pour la séparation et l'incapacité pour les libéraux de rallier les Canadiens à travers un message authentique.
Par Beryl Wajsman le 10 juin 2011
Some things stay with you. More importantly, some people do. They become part of the fabric of who you are. The memory of their piercing glare, their defiant words, their resonant voice and their courageous acts rally your resolve whenever it weakens. It is not even the stirring of memory, for their images never really leave you. Theodore Bikel is all that and more. For in his case there is music, and what music. It is the soundtrack of our lives.



Par Beryl Wajsman le 4 mai 2011
The biggest story about the supposed resurgent left in this election is that there is no story. Nor is there a resurgent left.
What most current discussion misses in covering the NDP is that the party's success was an overwhelmingly Quebec phenomenon wrapped in a Quebec enigma. It had nothing to do with a nation divided against itself hopelessly polarized between a recalcitrant right and a statocratic left. It had everything to do with Quebecers fatigue with separation and Liberals failure to connect with Canadians through an authentic message.
Par Beryl Wajsman le 21 avril 2011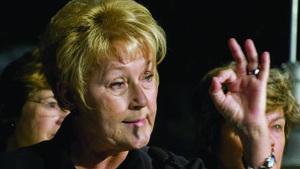 En octobre de 2007, j'ai écrit dans « Une question de préjudice » au sujet du projet de loi sur l'identité québécoise de Pauline Marois et du PQ que « Pauline Marois ne semble pas comprendre la fureur provoquée par la proposition du projet de loi sur l'identité québécoise du Parti québécois de limiter l'accès à la citoyenneté, l'ascension à la fonction politique et même le droit de grief devan tl'Assemblée nationale à moins que les nouveaux arrivants au Québec aient une connaissance « adéquate» du français. Essayons d'apporter une clarté à sa compréhension. Mme Marois, la fureur surgit parce que c'est une question de préjudice! C'est outrageux dans une société démocratique. »
Par Beryl Wajsman le 24 février 2011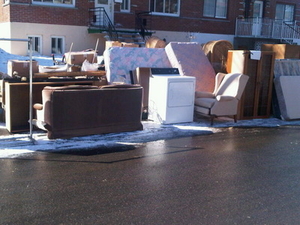 This is one of those stories without a good guy or a bad guy. Just victims. And the cushion of comfort between the fortunate and the vulnerable is filled with a good deal of luck.This past Monday morning I received an e-mail about an eviction. It was from a neighbor of the unfortunate tenant. By the time I arrived on the quiet block of duplexes in Cote St-Luc the bailiff and police had gone. All that was left were the worldly possessions of the tenant neatly stacked on the street as you can see in the picture.
Par Beryl Wajsman le 21 février 2011
Conservative MP Maxime Bernier's weekend comments calling Bill 101 unnecessary are a clarion call of courage and candour. We should be rallying around those sentiments. Bernier spoke truth to myth and emerged as a new patron saint of reason. He should be lionized not vilified as he has been in much of the Quebec press. He has opened the door to a much needed debate on a heretofore taboo subject. It is a wake up call for this province and perhaps a last chance to turn Quebec toward the politics of respect, justice and equality.
Par Beryl Wajsman le 16 février 2011
Au-delà d'un an, Dominique Payette, une ancien journaliste et maintenant professeure à l'Université de Montréal, a été mandatée par la Ministre de la culture Christine St-Pierre pour étudier des façons dont les médias dans les régions du Québec et les médias indépendantes dans les villes pourraient être aidés à l'ère des nouvelles technologies. Son rapport final, présenté la semaine dernière, est allé bien au-delà de son mandat. En fait, c'est le plus grand affront à la liberté d'expression depuis les lois linguistiques. Ça mérite un rejet retentissant.
Par Beryl Wajsman le 16 février 2011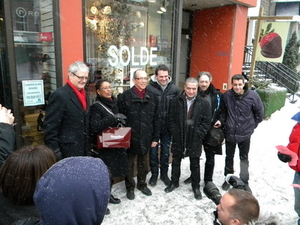 Ainsi, une partie des puissantes forces "progressives" du Québec ont décidé de boycotter les produits et les compagnies israéliens en raisonde « l'apartheid politique" d'Israël. Simplement de l'hypocrisie et une ruse. Par leurs mots et leurs actions elle a démontré, en folie et en honte, le vrai visage de cette partie de la société « civile » du Québec qui tout en déclarant hardiment sa propre « différence », est vraiment hanté par un doute de soi-même poussé par une jalousie des croyances individuelles des autres.



Par Beryl Wajsman le 27 décembre 2010
Les événements en société sont connexes. Parfois indirectement. Parfois ils reflètent simplement le tempérament de l'époque. Mais c'est pour cette raison que ceux qui affectent ce tempérament, ceux qui ont un poste politique important, doivent être imputables quand ils pratiquent la politique de l'annulation.
Par Beryl Wajsman le 27 décembre 2010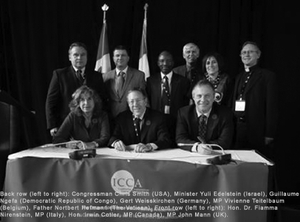 Des parlementaires de six continents étaient sur place pour émettre le Protocole d'Ottawa - un document qui représente la coopération globale dans la lutte contre l'antisémitisme à la fin de la deuxième conférence de la Coalition interparlementaire de lutte contre l'antisémitisme (CILA), cofondé par le député de Mont-Royal Irwin Cotler. La conférence était la plus grande de sa sorte, et a donné l'occasion pour que les délégués puissent explorer des données et échanger sur les meilleures manières de combattre l'antisémitisme autour du monde. La CILA rassemble 46 pays et plus de 250 parlementaires du monde entier pour mener le combat contre la résurgence de l'antisémitisme global.
Par Beryl Wajsman le 27 décembre 2010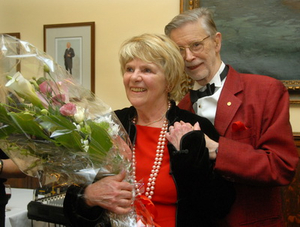 Some thirty years ago, Diana and David Nicholson opened their storied home at 33 Rosemount Avenue in Westmount for conversations with friends every Wednesday night. Those conversations grew into a Montreal tradition that rivals the most influential political and literary salons of Washington, London or Paris. Almost every leader from the worlds of politics, finance, medicine, science, academia and any other vocation you can think of have passed through their warm and welcoming doors.

Par Beryl Wajsman le 1 décembre 2010
We have all heard the expression that a "person's home is their castle." It is more than a saying. It has for hundreds of years been incorporated into the body of our laws. Clearly one can understand that there are certain exceptions. If we hear some horrible scream or smell or smoke coming from our neighbour's home or apartment we would be irresponsible not to call the appropriate authorities and they would be perfectly right to come and investigate. But how do you feel about information collected about you through the endless panoply of wires and meters governing our abodes being handed over to public security authority? A great danger we think. Yet that is what the Supreme Court has opened the door to.
Par Beryl Wajsman le 4 novembre 2010
A local media ad campaign has used the slogan "words matter" for some time. Sadly that is not getting through to our intelligentsia. Words should matter and we shouldn't waste so much time arguing what language they are spoken in.
Par Beryl Wajsman le 4 novembre 2010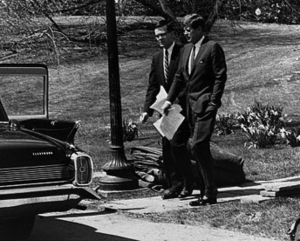 So often today, throughout the free nations of the West, we seek leadership. Not simply the elected kind that confuses bookkeeping with boldness and social engineering with social progress. We seek the kind of leadership that with clarity, candour and courage gives us confidence in ourselves and realistic hope for our nation. The kind of leadership that dares to care, refuses to merely run between the raindrops and does not let focus groups and polls determine its vision and values. This week one of the last ties to one of the last such leaders died. Theodore Chaikin Sorensen passed away at the age of eighty-two from complications of a stroke.
Par Beryl Wajsman le 9 septembre 2010
Depuis l'époque de la Prohibition des années 1920, l'histoire récente nous démontre que les tentatives de l'État de s'employer à l'ingénierie sociale sont vouées à l'échec. L'homme aura toujours ce qu'il veut; et ce faisant, affermira le soi-disant élément criminel parmi nous.
Des lois relatives aux drogues sont des lois qui n'ont pas lieu d'exister. Depuis Trudeau, les gouvernements se succédant ont tenté, et ont échoué face à une opposition virulente d'une droite rétrograde, de les radier des livres. Jusqu'à présent, les lois régissant les armes à feu auront coûté plus d'un milliard de dollars, sans commission d'enquête, et sont futiles puisque les criminels ne déclarent pas leurs armes. Faut-il une ruade pour que nos législateurs comprennent une réalité pourtant bien simple?
Par Beryl Wajsman le 22 juillet 2010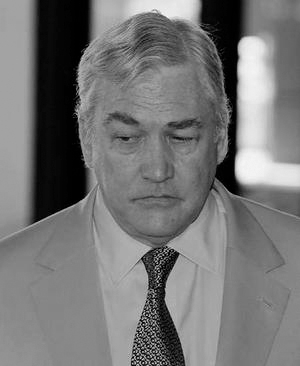 Enfin un peu de justice qui, espérons-le, devra apporter une fin à la persécution pernicieuse et à l'emprisonnement injuste de Conrad Black. La Cour suprême des États-Unis a restreint la portée d'une loi fédérale sur la fraude, qui est souvent utilisée dans les dossiers de crimes économiques, et, de ce fait, les trois condamnations pour fraude prononcées contre Conrad Black. La cour, dans une décision unanime, a constaté que la loi était confinée aux arrangements frauduleux impliquant des pots-de-vin. Il n'y en avait pas dans l'affaire Black. En effet, Black fut innocenté de neuf chefs d'accusations de fraude. C'était l'une des seules fois dans l'histoire américaine où quelqu'un a été trouvé coupable de fraude postale (essentiellement envoyer du matériel concernant une fraude alléguée par la poste) alors qu'innocenté des chefs d'accusations principale de fraude.
Par Beryl Wajsman le 10 juin 2010
Vous lirez beaucoup dans ce numéro au sujet de l'héritage de la Révolution tranquille dans notre vie politique, notre place sur la scène internationale, notre économie, nos mœurs sociales et nos arts. Ma réflexion dans cet espace est au sujet de ce que la Révolution tranquille - et l'extraordinaire révolutionnaire tranquille Paul Gérin-Lajoie - peut encore nous enseigner aujourd'hui et demain.
Par Beryl Wajsman le 23 avril 2010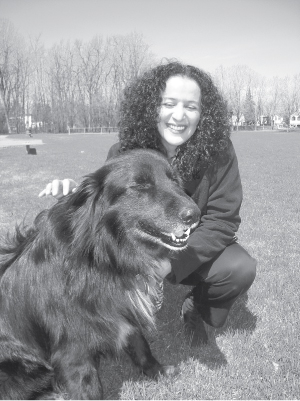 Le nom arabe Amal signifie trois choses. L'espoir, l'anticipation, et l'aspiration. Ces trois mots sont une bonne synthèse de ce qu'une résidante de Pointe Claire et étudiante à l'Université Concordia en relations humaines et psychologie Amal Asmar ose rêver ces jours-ci après que la police l'ait harcelée, malmenée et laissée avec quelques 1 000$ en amendes. Elle espère pour la justice; anticipe des excuses et aspire à une réponse à sa demande sincère de : « tous ce que je veux savoir c'est pourquoi? ». Alors qu'elle achève ses études et continue sa recherche pour un emploi, les cicatrices mentales qu'elle a toujours l'obligent à maintenir ce rêve vivant. Ses « crimes ? ».



Par Beryl Wajsman le 23 avril 2010
Il y a un contrat social entre les gouverneurs et les gouvernés. Nous le peuple acceptons d'abandonner une partie de nos libertés et de notre trésor en échange de prestation de services qui rendent nos vies meilleures. Des services que même le plus fort parmi nous ne pourrait pas se fournir à soi-même. Quand nous sommes sortis des jungles et des forêts et avons créé des habitats, nous nous sommes rendus compte qu'en repoussant les loups ensemble, nous aurions le time de vivre. Pour grandir. Pour aimer. Pour engager nos passions et nos poésies et réaliser la pleine capacité de notre individualité.
Par Beryl Wajsman le 25 mars 2010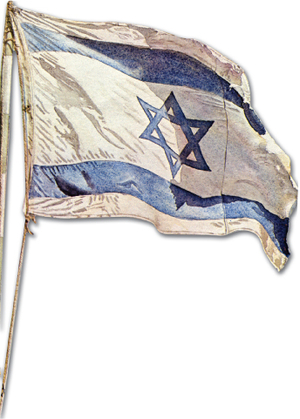 Over the past month – from that annual hatefest called Israel Apartheid Week to the needless row over the Jerusalem buildings – we have witnessed a viral and venal campaign of disinformation about our one democratic ally in a a sea of theocratic tyranny. We want to devote this front page to setting the record straight. To fight the teachings of contempt. Here's the real deal on Israel.
During IAW we saw the usual collection of Islamist apologists and their fellow-travelers in academic, political and diplomatic circles seeking to portray Israel as an apartheid-era South Africa in relation to its Arab citizens.



Par Beryl Wajsman le 11 février 2010
La tragédie de l'Haïti continue à se déferler dans son ensemble. Les leçons qu'elle nous enseigne au quotidien vont au cœur de notre particularité. Si elle aura quelconque testament durable, ce sera de nous rappeler ce que signifie être humain.
A story in scripture tells of two men. One, cool and detached, always involved in his own affairs looking for ways to accumulate wealth and power. The other, emotional and engaged, constantly involved in the actions and passions of his time...
Par Beryl Wajsman le 11 février 2010
Les demandes de l'opposition fédérale pour une enquête sur la supposé influence négative du gouvernement Harper sur l'organisation Droits et démocratie sont inacceptables, mal conçus et corrosifs. Inacceptables parce qu'ils ne résonnent à rien de plus qu'une chasse aux sorcières cherchant un bénéfice politique sur la mort du défunt président de Droits et démocratie, Rémy Beauregard; qui est mort récemment d'une crise cardiaque. Mal conçu car ils démontrent une ignorance effroyable des lacunes de Droits et démocratie que ce gouvernement a essayé de corriger...
Par Beryl Wajsman le 7 janvier 2010
Much time has been spent, and appropriately so, defending our privacy rights in this time of war on terror. The public must be convinced of their importance. Justice Louis Brandeis called them "the most prized right of civilized nations."
Par Beryl Wajsman le 3 décembre 2009
Many people deride the generosity of spirit and selflessness of action that pervades our civic life during this time of year. They call it hypocritical. A passing fancy. They should not do that. This season of conscience is no longer limited to the twelve days of Christmas. It seems to start somewhere around mid-November – when lights begin to splash the city nights – and end around mid-January when they are taken down. Two months out of twelve where conscience trumps competition and compassion is prized above contempt. One-sixth of the year. It's not perfect, but we should make the most out of it...
Par Beryl Wajsman le 3 décembre 2009
Hundreds of anti-poverty and social advocacy leaders and activists turned out recently to protest the opening of the Quebec government's third phase of consultations on the formulation of a concerted provincial plan to significantly reduce poverty over the next ten years. Their complaints, which were first heard in the summer at the time of earlier phases of the consultation process, center around their perception that the government does not really want input from fontline groups and that these meetings are just so much window dressing. The hearings are taking place under the name "Le Rendez-vous de la solidarité 2009."
Par Beryl Wajsman le 4 novembre 2009
The composite picture above illustrates the bullet we dodged. It's a play on Projet Montreal's placards showing a Polaroid snapshot of something fixed over a picture. Of its current state of disrepair. Well, the election of either Bergeron or Harel could have led our city into the reverse. A prospering St-Catherine street boarded up if either Harel or Bergeron had a chance to institute either of their ideas about closing the street to traffic from Papineau to Atwater in Harel's case, and from Papineau to Guy in Bergeron's case.
Par Beryl Wajsman le 4 novembre 2009
Chaque fois que l'indivisibilité de la liberté est violée, nous sommes obligés d'exprimer notre opposition. Particulièrement, quand cette violation se produit dans notre cours. Et précisément quand ce que nous défendons est la souveraineté du choix individuel. Parce que la liberté de choisir est au cœur d'une société libre. C'est la leçon objective dans la différence entre la liberté et la tyrannie.
Par Beryl Wajsman le 4 novembre 2009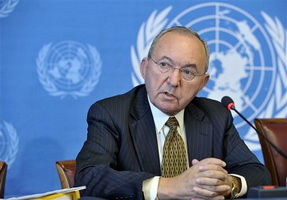 "Every day at the U.N., on every side, we are assailed because we are a democracy. In the U.N. today there are in the range of several dozen democracies left; totalitarian regimes and assorted ancient and modern despotisms make up all the rest. Nothing so unites these nations as the conviction that their success ultimately depends on our failure. Most of the new states have ended up as enemies of freedom." Those words were not expressed yesterday. They were spoken over thirty years ago by Daniel Patrick Moynihan while serving as US Ambassador to the UN. They are as true today as they were then.